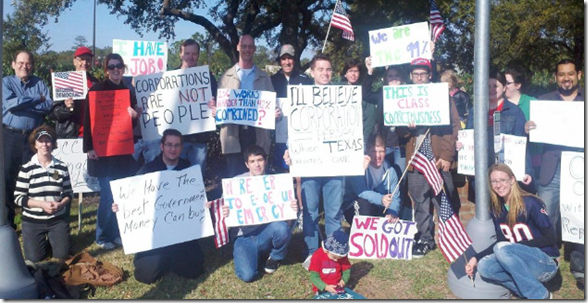 The coalition of Kingwood Area residents (Kingwood, Atascocita, Humble, Montgomery County) that we collective call Occupy Kingwood have made three successful 90 minute informative, peaceful, and well received OCCUPY events at the intersection of Kingwood Drive and West Lake Houston Parkway(Rally1, Rally2, Rally3). Our intent is to do this weekly. It creates a necessary awareness going into the 2012 elections.
While we do not all need to be there weekly, I would love to encourage you to come hold an informative sign and have a civil discourse with your neighbor if the opportunity presents itself. Come for 15 minutes or the full 90 minutes but please come. We have enough members to have a different cast of overlapping Kingwood citizens participating. We also have lots of fun out there. Meet new neighbors or neighbors you have not seen in years. Remember, making a change starts with you!
TIME: Saturday at 9:00 AM till 10:30AM.
PLACE: We meet in the HEB parking lot nearest the intersection at Kingwood Drive & Lake Houston Blvd.
We have lots of positive signs but if you have one please feel free to bring it along with your cup of coffee.
---
---