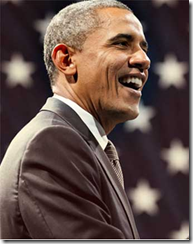 President Obama was inspired to sing a bit of Al Green during a recent campaign stop at the Apollo Theater. And now you can have his rendition of "Let's Stay Together" as a ringtone.
I think everyone was just as surprised as I was that he could actually carry a tune. I like the way he did just a tease and then stopped. We would not want the Right to use it as some sort of a "caricature" of you know what.
Check out the video here.
Download for iPhone —— Download for other smartphones
---
---