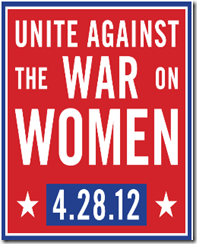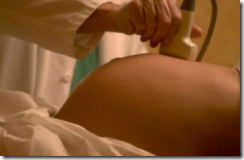 It is no longer a hypothetical. The story below is a real world experience of a young woman at the lowest point in her life having to experience a law that was passed by a Republican male dominated Texas statehouse. Do you believe if pregnancy and difficult decisions having to do with pregnancy had anything to do with males that they would allow a government intrusion on that medical decision? Can you name one law that controls a man's body or what he can do with it? Don't Republicans claim small government, less intrusive government, and less government regulation? Yet this law blows a hole in every single one of those tenets; hypocrisy to the nth degree.
This is one of the reasons, as a husband, as a father, as a son,  I will fight to ensure that no man, woman, or government enslave the rights of my wife, daughter, sister, cousin, niece, aunt,  grandmother, or friend. I trust that every able bodied Texan will be attending the "Unite Against The War On Women Rally"  in Austin, Texas on the 28th of April.
---
'We Have No Choice': One Woman's Ordeal with Texas' New Sonogram Law

The painful decision to terminate a pregnancy is now—thanks to Texas' harsh new law—just the beginning of the torment.

by Carolyn Jones Published on: Thursday, March 15, 2012

Halfway through my pregnancy, I learned that my baby was ill. Profoundly so. My doctor gave us the news kindly, but still, my husband and I weren't prepared. Just a few minutes earlier, we'd been smiling giddily at fellow expectant parents as we waited for the doctor to see us. In a sonography room smelling faintly of lemongrass, I'd just had gel rubbed on my stomach, just seen blots on the screen become tiny hands. For a brief, exultant moment, we'd seen our son—a brother for our 2-year-old girl.

Yet now my doctor was looking grim and, with chair pulled close, was speaking of alarming things. "I'm worried about your baby's head shape," she said. "I want you to see a specialist—now."

My husband looked angry, and maybe I did too, but it was astonishment more than anger. Ours was a profound disbelief that something so bad might happen to people who think themselves charmed. We already had one healthy child and had expected good fortune to give us two.

Instead, before I'd even known I was pregnant, a molecular flaw had determined that our son's brain, spine and legs wouldn't develop correctly. If he were to make it to term—something our doctor couldn't guarantee—he'd need a lifetime of medical care. From the moment he was born, my doctor told us, our son would suffer greatly.

So, softly, haltingly, my husband asked about termination. The doctor shot me a glance that said: Are you okay to hear this now? I nodded, clenched my fists and focused on the cowboy boots beneath her scrubs.

She started with an apology, saying that despite being responsible for both my baby's care and my own, she couldn't take us to the final stop. The hospital with which she's affiliated is Catholic and doesn't allow abortion. It felt like a physical blow to hear that word, abortion, in the context of our much-wanted child. Abortion is a topic that never seemed relevant to me; it was something we read about in the news or talked about politically; it always remained at a safe distance. Yet now its ugly fist was hammering on my chest.

My doctor went on to tell us that, just two weeks prior, a new Texas law had come into effect requiring that women wait an extra 24 hours before having the procedure. Moreover, Austin has only one clinic providing second-trimester terminations, and that clinic might have a long wait. "Time is not on your side," my doctor emphasized gently. For this reason, she urged us to seek a specialist's second opinion the moment we left her office. "They're ready for you," she said, before ushering us out the back door to shield us from the smiling patients in the waiting room.

The specialist confirmed what our doctor had feared and sketched a few diagrams to explain. He hastily drew cells growing askew, quick pen-strokes to show when and where life becomes blighted. How simple, I thought, to just undraw those lines and restore my child to wholeness. But this businesslike man was no magician, and our bleak choices still lay ahead.

Next a genetic counselor explained our options and told us how abortions work. There was that word again, and how jarring and out-of-place it sounded. Weren't we those practical types who got married in their 30s, bought a house, rescued a dog, then, with sensible timing, had one child followed by another? Weren't we so predictable that friends forecast our milestones on Facebook? Suddenly something was wrong with our story, because something was wrong with our son. Something so wrong that any choice we made would unyoke us forever from our ordinary life.

Our options were grim. We learned that we could bring our baby into the world, then work hard to palliate his pain, or we could alleviate that pain by choosing to "interrupt" my pregnancy. The surgical procedure our counselor described was horrific, but then so seemed our son's prospects in life. In those dark moments we had to make a choice, so we picked the one that seemed slightly less cruel. Before that moment, I'd never known how viscerally one might feel dread.

That afternoon, my husband and I drove through a spaghetti of highways, one of which led us to a nondescript building between a Wendy's and a Brake Check. This was Planned Parenthood's surgical center, part of the organization constantly in the news thanks to America's polarizing cultural debates. On that very day, Planned Parenthood's name was on the cover of newspapers because of a funding controversy with the Susan G. Komen Foundation. These clinics, and the controversial services they provide, are always under scrutiny. The security cameras, the double-doors and the restricted walkways assured us of that fact.

While my husband filled out the paperwork, I sat on a hard chair in the spartan reception area and observed my fellow patients. I was the oldest woman in the waiting room, as well as the only one who was visibly pregnant. The other patients either sat with their mothers or, enigmatically, alone. Together we solemnly marked time, waiting for our turn behind the doors.

Eventually we were called back, not to a consulting room, but to another holding area. There, the staff asked my husband to wait while a counselor spoke to me in private. My husband sat down. Posters above him warned women about signs of domestic abuse.

Meanwhile, I was enclosed with a cheerful-looking counselor who had colored hair and a piercing in her nose. Feeling like someone who'd stumbled into the wrong room, I told her between choked sobs how we'd arrived at her clinic on the highway.

"I am so sorry," the young woman said with compassion, and nudged the tissues closer. Then, after a moment's pause, she told me reluctantly about the new Texas sonogram law that had just come into effect. I'd already heard about it. The law passed last spring but had been suppressed by legal injunction until two weeks earlier.

My counselor said that the law required me to have another ultrasound that day, and that I was legally obligated to hear a doctor describe my baby. I'd then have to wait 24 hours before coming back for the procedure. She said that I could either see the sonogram or listen to the baby's heartbeat, adding weakly that this choice was mine.

"I don't want to have to do this at all," I told her. "I'm doing this to prevent my baby's suffering. I don't want another sonogram when I've already had two today. I don't want to hear a description of the life I'm about to end. Please," I said, "I can't take any more pain." I confess that I don't know why I said that. I knew it was fait accompli. The counselor could no more change the government requirement than I could. Yet here was a superfluous layer of torment piled upon an already horrific day, and I wanted this woman to know it.

"We have no choice but to comply with the law," she said, adding that these requirements were not what Planned Parenthood would choose. Then, with a warmth that belied the materials in her hand, she took me through the rules. First, she told me about my rights regarding child support and adoption. Then she gave me information about the state inspection of the clinic. She offered me a pamphlet called A Woman's Right to Know, saying that it described my baby's development as well as how the abortion procedure works. She gave me a list of agencies that offer free sonograms, and which, by law, have no affiliation with abortion providers. Finally, after having me sign reams of paper, she led me to the doctor who'd perform the sonography, and later the termination.

The doctor and nurse were professional and kind, and it was clear that they understood our sorrow. They too apologized for what they had to do next. For the third time that day, I exposed my stomach to an ultrasound machine, and we saw images of our sick child forming in blurred outlines on the screen.

"I'm so sorry that I have to do this," the doctor told us, "but if I don't, I can lose my license." Before he could even start to describe our baby, I began to sob until I could barely breathe. Somewhere, a nurse cranked up the volume on a radio, allowing the inane pronouncements of a DJ to dull the doctor's voice. Still, despite the noise, I heard him. His unwelcome words echoed off sterile walls while I, trapped on a bed, my feet in stirrups, twisted away from his voice.