Kingwood Area Democrats in 2012 4th of July Parade
---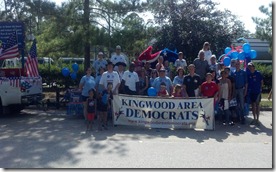 The Kingwood Area Democrats (KAD) participated in the Kingwood 4th of July Parade sponsored by the Kingwood Civic Club. They also participated in the 4th of July festival in Town Center.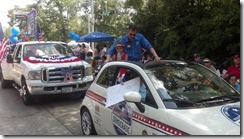 KAD was honored to have the Chairman of the Harris County Democratic Party Lane Lewis lead the delegation of over 50 participants. Chairman Lewis was in a Chrysler Fiat car, an affordable American built car by middle class union workers.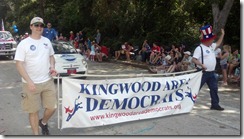 The KAD delegation banner carriers were William Robert Williams, Harris County Chairman for Senate District 4 and Gary Binderim, the previous candidate for US Representative for TX District 2. Sue Pilko, Harris County Senate District 4 secretary walked the entire route engaging Kingwood residents throughout the procession.
KAD sported a float designed and built by KAD members Michelle Michon and Frank. It included the most patriotic kicking red, white, and blue donkey surrounded by bales of hay. The bales of hay doubled as chairs for many KAD members and their children.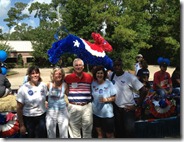 Jim Dougherty who is running for US Representative for TX District 2 to replace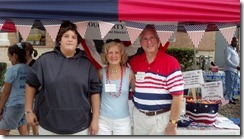 Ted Poe was a participant. He walked the entire route talking to Kingwood residents as well as giving them information on his campaign while encouraging them to stay engaged in the political process in order to vote what is in the best interest of themselves, their families, Kingwood, our city, our state, and ultimately our country.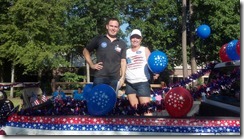 Cody Pogue who is running for Texas State Representative for House District 127 to replace Dan Huberty brought a uniquely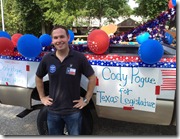 Texas perspective to the parade riding in the back of his pickup truck decorated in our red white and blues. When asked about the posters on his pickup truck and on the posters being held by the many children participants he made it clear his singular focus will be on ensuring all our kids get the type of education that will allow them to compete successfully not only in the United States but throughout the world as well as ensuring the rebirth of the middle class.
The main float in the parade had a message to our valiant soldiers that stated the following. "Today we honor the brave men and women who gave their lives & service so that we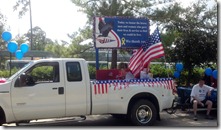 could be free. We thank you." What was inspiring was watching many people stand at alert and salute our tribute to all those that have served to protect the United States of America. Many seemed to be veterans giving the solemnity they displayed as they saluted. It is evident they were grateful that there was a concerted effort made by this delegation to honor and salute them.
Following the parade the Kingwood Area Democrats participated in the July 4th Festival and Fireworks event in Kingwood Town Center sponsored by the Town Center Association. KAD signed up as a sponsor.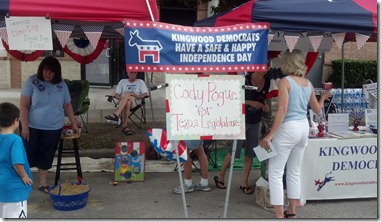 KAD had two booths, designed by KAD publicity chair Deborah Mowrey and put together by membership chair Marc Croes and various other members. One booth had the US Constitution, voter registration materials, membership materials, giveaways, and other informational material. The other booth was a playground for children where they could play games. All the children walked away with little gifts.
Cody Pogue and Jim Dougherty were present to engage those attending the festival and had a mostly positive and encouraging response from the attendees.
The KAD booths were in close proximity to the TEA Party booth. Many KAD members visited the TEA Party booth and vice versa. They had very healthy discussions and in fact there were tacit agreements with certain individuals to work together on certain issues like corporate personhood and the corruptive and corrosive influence on money in politics. The entire event showed what America is all about; people of different cultures & beliefs uniting under one banner, the American flag and working together to promote ultimately what is best for every American citizen.