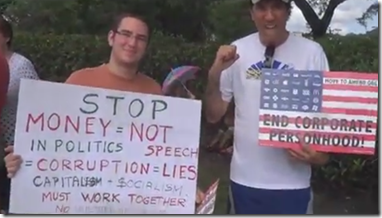 We've completed 29 consecutive weeks of Occupy Kingwood. We are well on our way to complete our 52 consecutive weeks at the corner of Kingwood Drive and West Lake Houston Parkway. We do this every Saturday between 9 AM and 10:30 AM.
The morning started as usual with me going to get a couple dozen donuts as well as my Venti Starbucks coffee (Starbucks is a positive corporate citizen that many corporations may do well emulating). We started putting our signs out about five minutes early. It was just four of us to start, Professor Davis, Dr. Theis, Edda, and me. We were a bit concerned but we figured it out. It is hot as hell and our stalwarts in effect are minimizing their solar exposure by coming either just on time or a few minutes late. Our stalwarts were all there within 15 minutes so we had constancy of numbers throughout the weeks.
While we engage all our visitors irrespective of point of view, today we had a visitor that we pretty much engaged for a while and then we summarily asked him to leave. This man came with a young impressionable kid and had the vilest and most racist remarks about our southern neighbors and other people. While absent his grand kid we would have engaged, we believe the evil he expounded was so detrimental to the kid that we preferred to not engage him at all as the poor kid would either be embarrassed by the man or negatively influenced. Either way, nothing positive would have come out of a discussion.
Afterwards, we continued discussing the week's political happenings as well as political strategies we should be attempting outside of our sustainable educational movement that we are currently engaged in during our short weekend stints.
We had video of the racist that visited us but decided not to give him the honor of having his ignorance broadcasted. We did the weekly commentary from our regulars which are a part of this post.
Come and join us if you are in the Kingwood, TX vicinity. I am sure you will be entertained with positive, intellectually stimulating, and just plain fun discourse.