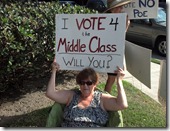 Occupy Kingwood has now completed its 33rd consecutive week. It was stifling hot and humid but we had a very good crowd. We had new participants and the return of a few of our stalwarts.
As usual Dr. Theis gave his commentary of the week. This week he spoke about a story in The Hill that stated there is already a budget agreement that politicians will release the day after the election. Professor Davis was absent this week as he is in another state. Could he be replicating our group elsewhere? There may be more to come.
Stephanie Kelly spoke about Chick-Fil-A 's anti-gay statements and pushback from those that do not believe in any kind of prejudice. Kevin Higgins gave an impassioned dissertation on military spending and the opportunity cost of said spending. Valerie Schwab Dunn gave her ode to the middle class.
I was excited and proud to have my daughter in town this week. She came and performed her civic duty inasmuch as she must limit her sun exposure. Aisha, one of our newcomers was at home and enjoyed friendly discourse from the time she set foot at our location.
Many of our other stalwarts were there engaging our community. There was very positive response from most of the cars and people passing.
These are very serious times. It is important that we all take the coming elections seriously. It is our duty to educate ourselves so we can make the correct decisions at the polls.
---