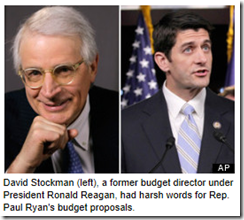 It is evident that we have a Right Wing fearing mainstream media. When the architect of President Reagan's version of trickledown economics lambasts a fellow conservative Republican on the merits of his budget the least one must expect is serious coverage. After-all the current crop of Republicans have idolized Reagan as if he were the second coming of Jesus Christ as a transformative American figure.
They have yet to accept that the genesis of our economic demise was rooted in President Reagan's policies. The continuation of these policies on steroids will further damage the economy for the vast majority of Americans (the middle class), yet the media whose job it is to be the watchdog of the government to ensure that it really is "we the people", have remained in a state of suspended animation.
Folks, we have the tools to change that. We must change that. We cannot let a corporate led media continue to misinform or acquiesce to the talking points of politicians that misinform because of fiscal fear. As long as the Internet remains open (and we must see that it does), and social media remains social we must use all these avenues to ourselves become the media. We must be our  brother's keeper and informer. It is a new paradigm.
LIKE My Facebook Page
Follow @EgbertoWillies
---
Paul Ryan's Fairy-Tale Budget Plan

By DAVID A. STOCKMAN Published: August 13, 2012

David A. Stockman, who was the director of the Office of Management and Budget from 1981 to 1985, is the author of the forthcoming book "The Great Deformation: How Crony Capitalism Corrupts Free Markets and Democracy." Many consider him the architect of Reaganomics, Reagan's version of trickledown economics.

PAUL D. RYAN is the most articulate and intellectually imposing Republican of the moment, but that doesn't alter the fact that this earnest congressman from Wisconsin is preaching the same empty conservative sermon.

Thirty years of Republican apostasy — a once grand party's embrace of the welfare state, the warfare state and the Wall Street-coddling bailout state — have crippled the engines of capitalism and buried us in debt. Mr. Ryan's sonorous campaign rhetoric about shrinking Big Government and giving tax cuts to "job creators" (read: the top 2 percent) will do nothing to reverse the nation's economic decline and arrest its fiscal collapse.

Mr. Ryan professes to be a defense hawk, though the true conservatives of modern times — Calvin Coolidge, Herbert C. Hoover, Robert A. Taft, Dwight D. Eisenhower, even Gerald R. Ford — would have had no use for the neoconconservative imperialism that the G.O.P. cobbled from policy salons run by Irving Kristol's ex-Trotskyites three decades ago. These doctrines now saddle our bankrupt nation with a roughly $775 billion "defense" budget in a world where we have no advanced industrial state enemies and have been fired (appropriately) as the global policeman.

Indeed, adjusted for inflation, today's national security budget is nearly double Eisenhower's when he left office in 1961 (about $400 billion in today's dollars) — a level Ike deemed sufficient to contain the very real Soviet nuclear threat in the era just after Sputnik. By contrast, the Romney-Ryan version of shrinking Big Government is to increase our already outlandish warfare-state budget and risk even more spending by saber-rattling at a benighted but irrelevant Iran.

Similarly, there can be no hope of a return to vibrant capitalism unless there is a sweeping housecleaning at the Federal Reserve and a thorough renunciation of its interest-rate fixing, bond buying and recurring bailouts of Wall Street speculators. The Greenspan-Bernanke campaigns to repress interest rates have crushed savers, mocked thrift and fueled enormous overconsumption and trade deficits.

The greatest regulatory problem — far more urgent that the environmental marginalia Mitt Romney has fumed about — is that the giant Wall Street banks remain dangerous quasi-wards of the state and are inexorably prone to speculative abuse of taxpayer-insured deposits and the Fed's cheap money. Forget about "too big to fail." These banks are too big to exist — too big to manage internally and to regulate externally. They need to be broken up by regulatory decree. Instead, the Romney-Ryan ticket attacks the pointless Dodd-Frank regulatory overhaul, when what's needed is a restoration of Glass-Steagall, the Depression-era legislation that separated commercial and investment banking.

Mr. Ryan showed his conservative mettle in 2008 when he folded like a lawn chair on the auto bailout and the Wall Street bailout. But the greater hypocrisy is his phony "plan" to solve the entitlements mess by deferring changes to social insurance by at least a decade.

A true agenda to reform the welfare state would require a sweeping, income-based eligibility test, which would reduce or eliminate social insurance benefits for millions of affluent retirees. Without it, there is no math that can avoid giant tax increases or vast new borrowing. Yet the supposedly courageous Ryan plan would not cut one dime over the next decade from the $1.3 trillion-per-year cost of Social Security and Medicare.

Instead, it shreds the measly means-tested safety net for the vulnerable: the roughly $100 billion per year for food stamps and cash assistance for needy families and the $300 billion budget for Medicaid, the health insurance program for the poor and disabled. Shifting more Medicaid costs to the states will be mere make-believe if federal financing is drastically cut.

Likewise, hacking away at the roughly $400 billion domestic discretionary budget (what's left of the federal budget after defense, Social Security, health and safety-net spending and interest on the national debt) will yield only a rounding error's worth of savings after popular programs (which Republicans heartily favor) like cancer research, national parks, veterans' benefits, farm aid, highway subsidies, education grants and small-business loans are accommodated.

Like his new boss, Mr. Ryan has no serious plan to create jobs. America has some of the highest labor costs in the world, and saddles workers and businesses with $1 trillion per year in job-destroying payroll taxes. We need a national sales tax — a consumption tax, like the dreaded but efficient value-added tax — but Mr. Romney and Mr. Ryan don't have the gumption to support it.