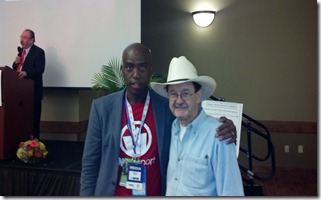 Day 3 was going to be the night. After-all, President Clinton was going to speak. It was an eventful day.
The day started with a talk from one of my favorite Texans, former Texas Agriculture Commissioner & Proud Liberal Progressive Jim Hightower. After he was done speaking I asked him for a short interview. Inasmuch as he was running late for his flight out of Charlotte, he said he would do it. He gave a great interview in standard Jim Hightower form.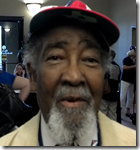 After that interview I wanted to get the pulse of the Texas delegation relative to their experience at this convention. Michelle had given a great speech and one could feel the enthusiasm that still resonated. I asked a cross section of the delegation to tell me a little bit about how they felt and they did not disappoint. Check out the interviews here and here.
When I got off the bus at the convention center there was a a misinformed protester shouting that Ob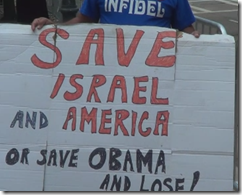 ama was going to destroy Israel. I wanted to get to The PPL early but I had to stop and engage this guy. I wanted to see where he got his information. From the interview you will see him get frazzled when he is questioned about his information source. This man is typical of the uninformed Right. Whenever they are challenged they take it as a personal attack and get belligerent. This is  the mindset of a group that is extremely hard to crack because they are convinced that their sources are accurate and provable sources are corrupt.
After that interview I tried to talk Jesse Jackson who was passing by. Jesse was rather cold and arrogant and I immediately lost interest in interviewing him and walked off. I then walked to to The PPL to write a few blogs early in the morning. I gave out several Move to Amend flyers and stickers to several of the bloggers and writers in the room.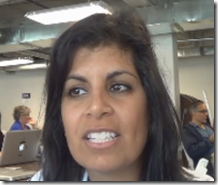 While writing my blogs, a group of doctors walked into the room. Dr. Mona Vishin Mangat came to table and gave me an excellent pro-Obamacare interview. If we had more doctors, healthcare professionals, politicians, and others speaking factually and with passion that personalizes the benefits of the Affordable Care Act to the individual citizens, then no amount of corporate dollars from our plutocracy would allow the American psyche to be misinformed and vote against their own healthcare interest.
Later on several of the CNN iReporters had a meetup with a couple of producers and a photographer to learn some pointers on photography, ethics, and story telling. We spent about an hour doing this.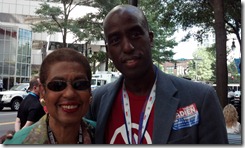 On my way back from the CNN meetup I saw Washington DC Congresswoman (delegate) Eleanor Holmes Norton sitting on a bench with one of her staff. I asked her if I could ask her a couple of questions and she said she would love to. Congresswoman Eleanor Holmes Norton's interview will be informative to many. After the interview was done she graciously asked if I wanted a picture. It is funny. I did want a picture but I did not want to bother her.
The day culminated with an excellent speech from President Clinton. Suffice it to say he knocked it out of the park.
---