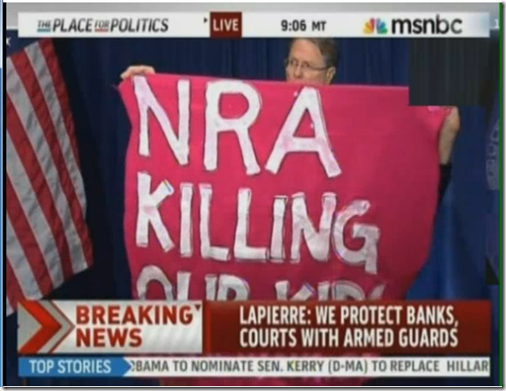 NRA leader Wayne Lapierre was heckled at his news conference. The press conference was shocking not because of the heckling but because of the unrepentant belligerence he showed towards any responsibility for the killings at the elementary school in Connecticut.
Mr. Lapierre's press conference was a press conference in name only. It seemed more like an attack on the media, an attack on progressives, an attack on politicians that want stricter gun regulations, an attack on the entertainment industry, and an attack on parents. In fact he implied that if parents liked their children more than they liked their money, they would support schools with armed protection.
It was very evident that Mr. Lapierre "press conference" was simply to gin up his base.When these events occur, he makes his members believe they are under attack. These members then react by buying up more guns and supplies. The NRA are like stock brokers. They make money on the upside and the downside.
One can only hope that the hecklers work not only on heckling, but on bringing awareness to support policies to defeat the perceived power of the NRA. This is a must.
LIKE My Facebook Page
Follow @EgbertoWillies
---