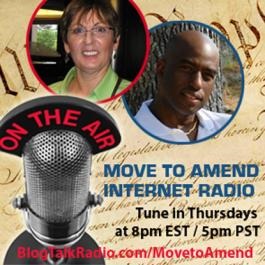 Thursday 7:00 PM Central
Call and listen at 646-652-2345
Live & Podcast Here.
We are very excited about what lays ahead for us in the coming year. We built up a lot of momentum last year to carry us forward, and we hope you will join us in maximizing our potential in 2013. Check out our Take Action Webinar held last week to learn more.
Or tune in to our new internet radio program!
Move to Amend Reports hosted by National Leadership Team members Laura Bonham and Egberto Willies, will air every Thursday at 8:00 PM ET, 5:00 PM PT.
The show will feature guests who specialize in movement building, amending the Constitution, grassroots organizing, and issues relating to corporate rule and participatory democracy.
Each show provides opportunity for call-in questions and comments from the listening audience by dialing 646-652-2345 (long distance changes apply).
Please add these events to your calendar:
★January 31: George Friday, Move to Amend national team member will discuss building a true multi-cultural democracy movement. Q & A to follow.
★February 7: Ashley Sanders of Salt Lake City MTA joins us for an in-depth discussion of thinking and acting locally as part of a larger movement to counter corporate control. Q & A to follow.
---