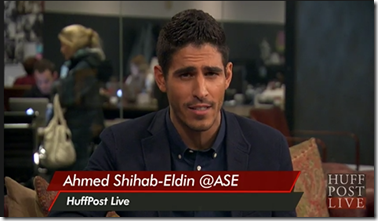 I appeared on HuffPost Live today to discuss the sequester, Hugo Chavez, and telepathic mice. It was a fun panel with three HuffPost reporter/editors.
The U.S. Senate voted down opposing plans to avert the across-the-board budget cuts known as sequestration today, just a day before spending cuts take effect.
Laboratory rats have communicated with each other using brain power alone, with microscopic electrodes implanted into their brains.
Venezuela's vice president said Thursday that President Hugo Chavez is fighting for his life while he continues to undergo treatment for cancer.
Originally aired on February 28, 2013
Hosted by:
Guests:
Mike McAuliff @mmcauliff (Washington, DC) HuffPost Senior Congressional Reporter
Michael Rundle @michaelrundle (London, United Kingdom) HuffPost UK Technology Editor
Ryan Craggs @ryanrcraggs (New York, NY) HuffPost Associate World Editor
Egberto Willies @EgbertoWillies (Kingwood, TX) Political Blogger and Author
Phil Perrier (Los Angeles, CA) Freelance Writer, Comedian, and HuffPost Blogger
---
---
---
---

LIKE My Facebook Page – Visit My Blog: EgbertoWillies.com
Follow @EgbertoWillies