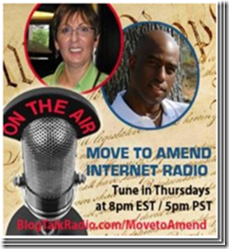 Thursday 7:00 PM Central
Call and listen at 646-652-2345
Listen Live & Podcast Here.
Move to Amend Reports hosted by National Leadership Team members Laura Bonham and Egberto Willies, will air every Thursday at 8:00 PM ET, 5:00 PM PT.
The show will feature guests who specialize in movement building, amending the Constitution, grassroots organizing, and issues relating to corporate rule and participatory democracy.
Each show provides opportunity for call-in questions and comments from the listening audience by dialing 646-652-2345 (long distance charges may apply).
Today's Show:
★April 18th: Shannon Biggs, Director of Community Rights, Global Exchange will be on for the first half hour. Local organizer Becca Clausen will finish the show.
Ms Biggs is touring for the California Communities Rising Up Against Fracking (April 14th till the 22nd) so it is great to have her on the show for some "on the road" talk about fracking. Her lates article on corporate personhood can be found here.
---