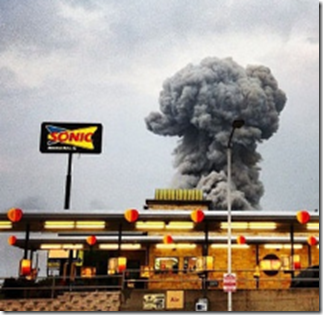 KTRK ABC13 News In Houston Texas is reporting that as many as 15 people were killed and over 160 injured after a fertilizer factory was on fire and exploded. It is reported that the explosion leveled building for blocks in every direction.
In a press conference early Thursday morning, D.L. Wilson with the Department of Public Safety confirmed there were fatalities following an explosion at a fertilizer plant in the town of West, which is near Waco. Sgt. Swanton with the Waco police department says there are anywhere from 5 to 15 fatalities, but the exact number of deaths is unknown at this time.

In an earlier press conference held around 2:30am, officials said the number of fatalities would likely continue to increase as the investigation progresses.

DPS spokesperson Gail Scarborough says 75-100 houses and business have been completely destroyed in and around the plant, and 200 people have been injured, according to ABC News. About 40 of them were critically injured.
Waco Sgt. William Swanton, spokesperson for the Waco TX Police department is assisting West Texas in getting information to the public current. In a press release he gave at 8:15 AM he said that West TX is doing the best they can.
Swanton said that at1 1:45 AM Governor Perry will give a press conference at the DPS station in Austin TX. He said at 7:00 AM the  ground team in West TX, included EMS, Fire Dept., ATF, and other agencies that are continuing search and rescue for survivors and the injured.
It is not known how many are trapped in the rubble. There is a significant area around the plant that is just gone. Weather helped with the chemical part of the fire by filtering the chemicals. There are still several homes on fire but no fire is out of control. No chemical fires are out of control. The terrain is now wet because of weather. Reporters will not be allowed in right now. The neighborhood is being secured as there are some looting going on. He said there are still firefighters missing.
---

LIKE My Facebook Page – Visit My Blog: EgbertoWillies.com
Follow @EgbertoWillies