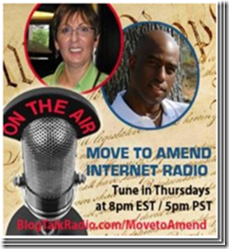 Thursday 7:00 PM Central
Call and listen at 646-652-2345
Listen Live & Podcast Here.
Move to Amend Reports hosted by National Leadership Team members Laura Bonham and Egberto Willies, will air every Thursday at 8:00 PM ET, 5:00 PM PT.
The show will feature guests who specialize in movement building, amending the Constitution, grassroots organizing, and issues relating to corporate rule and participatory democracy.
Each show provides opportunity for call-in questions and comments from the listening audience by dialing 646-652-2345 (long distance charges may apply).
Today's Show:
★April 25th:
Mark Halvorson founder and former director of Citizens for Election Integrity Minnesota (CEIMN), a statewide, non-partisan organization that advocates for accurate transparent and verifiable elections.
Phyllis Roden MTA Community Actvist
Bill Hilty served in the Minnesota House of Representatives from 1997 until he retired in 2013.
---