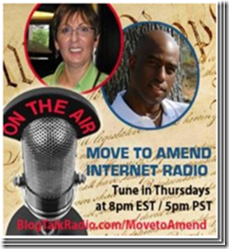 Thursday 7:00 PM Central
Call and listen at 646-652-2345
Listen Live & Podcast Here.
Hosted by National Leadership Team members Laura Bonham and Egberto Willies, will air every Thursday at 8:00 PM ET, 5:00 PM PT.
The show will feature guests who specialize in movement building, amending the Constitution, grassroots organizing, and issues relating to corporate rule and participatory democracy.
Each show provides opportunity for call-in questions and comments from the listening audience by dialing 646-652-2345 (long distance charges may apply).
Today's Show:
★June 13th Guests
Pamela Brown was a founding member of the Occupy Student Debt Campaign and Strike Debt. She has been involved in campaigns and writing projects including the student debt pledge of refusal, the Debt Resistors Operations Manual, the Rolling Jubilee, and Shouldering the Costs – a public service report on debt and Hurricane Sandy. Pam is a weekly columnist for Tidal Magazine and an organizer with People's Investigation of Wall Street. She holds her undergraduate degree in Philosophy from Dartmouth College, a Master of Arts in Media Studies from The New School, and is currently a doctoral student in Sociology at The New School for Social Research.

---

LIKE My Facebook Page – Visit My Blog:EgbertoWillies.com
Follow @EgbertoWillies