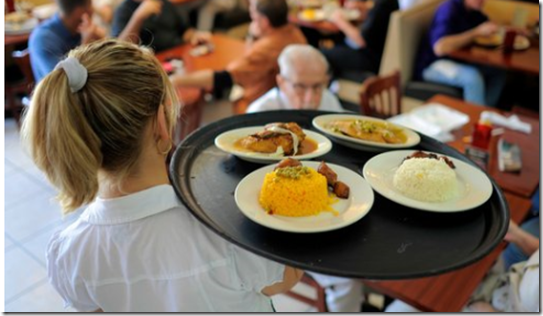 While it is great to see the unemployment rate starting to fall, that the new jobs being created are low wages is a sinister outcome caused by 30 years of bad policy. The American Plutocracy has sacrificed the working middle class. They've done it by exporting labor to slave labor countries. They've supported policies that kept unemployment high (no substantial government support for creating jobs while private sector refuses to). Supply and demand then bring down  wages as the supply of the unemployed explodes. Of course this provides huge profits for the few.
This was captured well in a last year New York Times story "Majority of New Jobs Pay Low Wages, Study Finds". A prescient statement in the article is:
"The overarching message here is we don't just have a jobs deficit; we have a 'good jobs' deficit," said Annette Bernhardt, the report's author and a policy co-director at the National Employment Law Project, a liberal research and advocacy group.

The report looked at 366 occupations tracked by the Labor Department and clumped them into three equal groups by wage, with each representing a third of American employment in 2008. The middle third — occupations in fields like construction, manufacturing and information, with median hourly wages of $13.84 to $21.13 — accounted for 60 percent of job losses from the beginning of 2008 to early 2010.

The job market has turned around since then, but those fields have represented only 22 percent of total job growth. Higher-wage occupations — those with a median wage of $21.14 to $54.55 — represented 19 percent of job losses when employment was falling, and 20 percent of job gains when employment began growing again.

Lower-wage occupations, with median hourly wages of $7.69 to $13.83, accounted for 21 percent of job losses during the retraction. Since employment started expanding, they have accounted for 58 percent of all job growth.

The occupations with the fastest growth were retail sales (at a median wage of $10.97 an hour) and food preparation workers ($9.04 an hour). Each category has grown by more than 300,000 workers since June 2009.
Sadly the story continues 9 months since the release of the article. All research is showing that the problem now may be systemic as old paradigms in wages die, specifically wage stickiness.
First off, a new paper by a trio of researchers confirms some old news: Adjusted for inflation, wages began stagnating for both men and women 10 years ago. Men's wages have actually decreased slightly since 2000, while women's wages, which had been rising steadily for decades, flattened out nearly to zero. But it could have been worse. Economists have long known that there's a floor to wages because employers don't like to reduce nominal wages. If you make $10 per hour, they won't cut your wage to $9 per hour. They'll just hold it at $10 and let inflation eat it away. This phenomenon is called wage stickiness.

But in "Wage Adjustment in the Great Recession," these researchers have found that wage stickiness, which is driven mostly by social convention, not economic law, might be dying out. During the Great Recession, employers were increasingly willing to cut nominal wages. Among hourly workers, the usual number who experience wage cuts is around 15 percent. That had risen to 25 percent by 2011. Among nonhourly workers, the number rose from about 25 percent to nearly 35 percent. Increasingly, it seems, wage stickiness isn't acting as a barrier against wage losses. [source]
These problems won't be solved with governmental austerity. These problems won't be solved with the benevolence of the private sector. This problem won't be solved by a capitalist market. After-all, under the current paradigm the economy is functioning as it should, maximization of profits for the owners of capital. The market cares not if it is at the expense of human beings manifested as policy driven decline in wages, war, or otherwise. Only with an engaged population that demands a paradigm shift, that demands an economy that works for all will things change.
---

LIKE My Facebook Page – Visit My Blog: EgbertoWillies.com
Follow @EgbertoWillies