The first day of Netroots Nation began eventfully. I got up early to write one of my daily blogs. I finished selecting the panels I was going to attend for the day, showered, and then walked the 1.1 miles to the convention center.
I got to the registration desk before it opened, however a crowed was already assembled. I saw Sean, one of our Virginia affiliates and had a long conversation about our grassroots movement until the booth opened to get registered.
After registration I visited the lonely Move To Amend table. I called up Roman to let him know I was there waiting. Roman and John showed up in no time thereafter. We proceeded to assemble our space.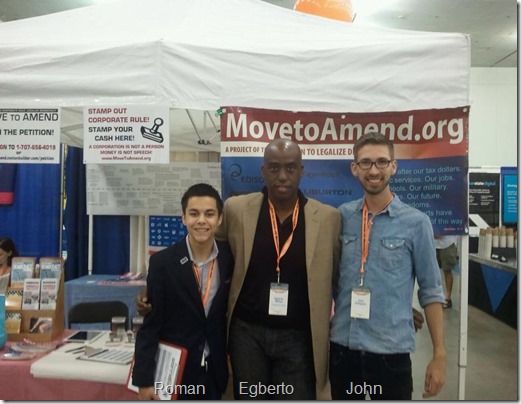 We ping ponged between panels and the booth. Move To Amend received a lot of traffic. We got many people to register. We had some who wanted to think about the wording of our amendment before signing which illustrated the level of thoughtfulness of the attendees of this conference.
After a couple of panels, a few of my colleagues and writers from Addicting Info stopped by. It was the first time we have ever met in person.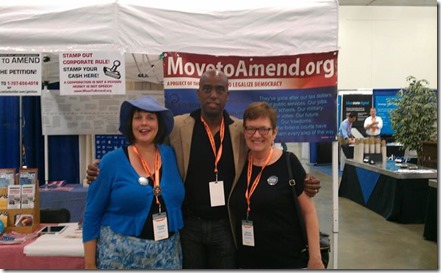 After meeting my Addicting Info cohorts, guess who passed by the Move To Amend booth? Karen Wheaton, one of the most active democratic activist in the Harris &  Montgomery county areas in Texas. She signed our 'We The People Amendment' amendment.'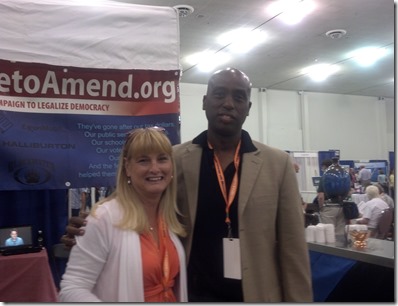 While sitting in the booth I saw a young man pass by with a T-Shirt that said De-bug. It rang a bell so I asked him if he was with Shamako, a community activist that David Cobb asked me to meet with. It was. I went over to their booth and introduced myself as well as introduce Move To Amend to a few other young men they had in the booth. In the process they 'coerced' me into getting one of their T-Shirts which I bought with pleasure.
I went to lunch with Markos Moulitsas, the creator and operator of the renown liberal site DailyKOS, and Susan Gardner, the executive editor of DailyKOS, where we spoke about current politics and other issues.
After a few sessions Roman and I went to listen to former Congressman Barney Frank and former Vermont governor Howard Dean.
After a few more panels I went back to the Move To Amend booth. After getting more signatures, we did the Move To Amend Reports radio show directly from the booth though with a shaky start as I had left Laura in the dark about taking over the board (Laura, my bad).
While putting stuff up and getting ready to shut down, I saw the powerful ex-Congressman Barney Frank passing by. I was attempting to get him to come and sign our petition. Instead he called me over. I asked him if he heard about our amendment. He said yes. I asked if he supported it. He said yes. I asked him to endorse it and he did so in front of a crowd that gathered around.
All in all it was a good first day. I learned a lot from the panels and like always intend to put it into practice immediately. If you are a Liberal, this is the place to be. You will feel at home knowing that this group represents and speaks for millions who continue to fight the moral fight of equal access to opportunity for all.