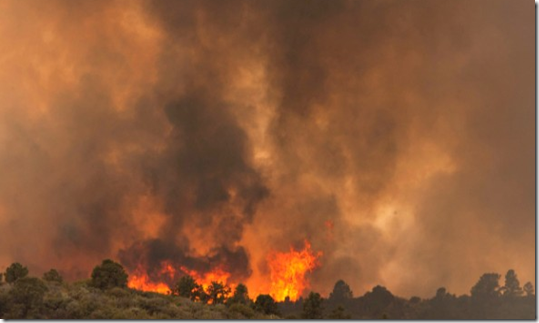 19  firefighters have died in the Yarnell Hill Fire In Arizona. On a live interview on CNN Art Morrison of the Arizona State Forestry Commission said the following.
It was a hot shot crew and under normal circumstances when you are digging a fire line you make sure you have an escape route and you have a safety zone setup and evidently there safety zone wasn't big enough and the fire just over took them. And so anytime that that there is a deployment of the fire shelters which is a tent like thing that reflects the heat, anytime that that happens its always a serious situation and they did deploy, we confirm that, the helicopter confirmed that and by the time the other firefighters got in, they didn't survive.
CNN.com reported the incident which is still breaking as of this writing as follows.
All were members of that city's fire department. It was not immediately clear how they died.

Earlier, an official with the Arizona State Forestry Division had said that as many as 19 were still missing.

The crew was fighting the Yarnell Hill fire, which broke out Friday northwest of Phoenix. The fire has grown to 1,000 acres, damaged three homes and forced the evacuations of residents in the communities of Peeples Valley and Yarnell, forestry official Art Morrison said.

The blaze is believed to have been started by lightning. [source]
This has been a very bad fire season. Year to day, there have been 21,593 fires burning 1,313,922 acres so far.
---

LIKE My Facebook Page – Visit My Blog: EgbertoWillies.com
Follow @EgbertoWillies