The Kingwood Area Democrats once again participated in the Kingwood 4th of July parade and the festival in Town Center. Inasmuch as very little planning went into it this year, we pulled off a feat. Last year  Michelle Michon single handedly built the float with the signature Democratic donkey, with the group needing only to provide light decoration. This year we all exchanged emails a few days before the event and each brought "some stuff" to make it happen.
Michelle was kind enough to let us use her Democratic Donkey at the last minute.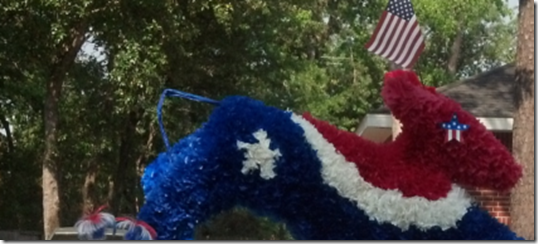 Dorinda Barajas made five great signs for the truck.
Tony Morales brought a whole bunch of frills to decorate the truck and float.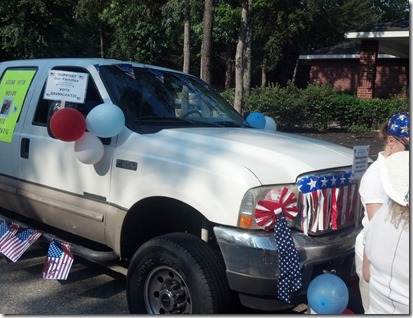 Deborah Mowery provided a goodie bag with the balloons and other stuff to decorate the truck and float. Cody Pogue's dad was kind enough to lend us his truck and trailer (our float).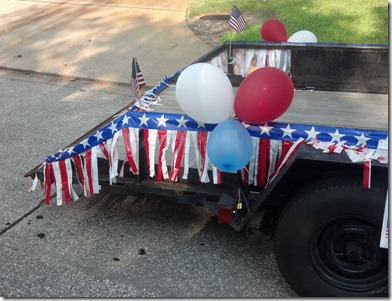 We started early. I went to Starbucks just before seven to get some coffee and then off to the line up to ensure  a spot in the front of the parade. Marc Croes and Cody Pogue soon after were getting some of our stuff out of our storage location. They got to the line up about an our later.. By then our devoted KAD members started to show up (Tony, Dalea Lugo, Charlotte, Dorinda, Barbara, Patty, and a few other members). We got the whole thing decorated in about an hour and a half.
We marched in the parade and then many of us plus many of the members not in the parade manned the booths in Town Center. Many voters were registered and many people stopped at our tent looking for information. This town will have a Democratic lean sooner than later as we make the case that their current loyalty is unjustified at best and fiscally irresponsible for their family's well-being at worst.
All in all the day went well except for three incidents. Normally when lined up, organizations are let out in the order they lined up. It was ironic that now that KAD was near the front that they attempted to selectively let floats out. We complained and they started doing it like years past.
Secondly, when KAD passed the announcers, they named the group ahead of us and the one behind us. I ran back to find the narrator and asked him why he snubbed our group. He claimed he had not seen us. He continued calling other groups. Not until I demanded that he treat groups fairly did he then call out Kingwood Area Democrats.
Lastly, KAD purchased two spaces at the Town Center festival. A young man decided to come next to our space with a sign that said."Love 'merica…vote republiCAN". Above that he was smoking a cigar and upsetting many of the members in the booths. KAD paid for this space to put out our message. We did not pay to have a dialogue with the opposition.  I told him he had 5 minutes to leave. He was gone in one.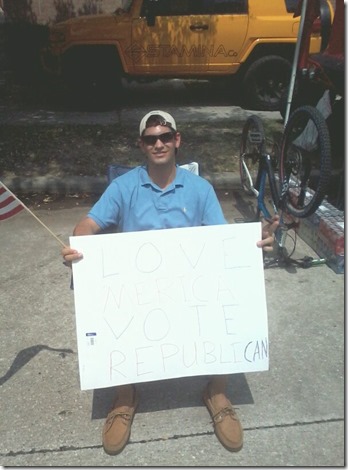 It was a great 4th of July. Kingwood Area Democrats had fun at the parade and at the Town Center Festival. Next year we will plan better and we will try to convince a minimum of 50 of our members to tolerate the heat and participate in the parade. Our group is quite large now and that should be easy to do.
Happy fourth of July.