Stand With Texas Women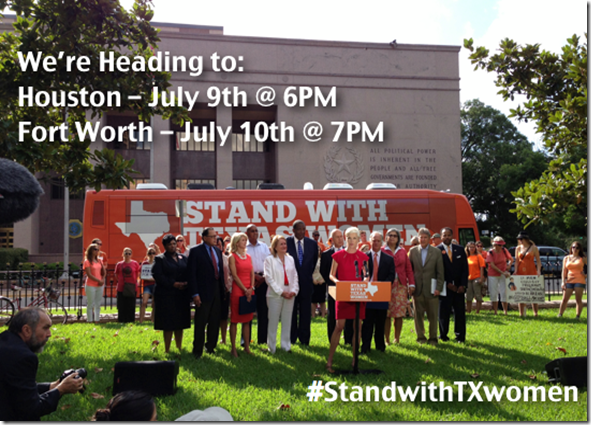 Last Tuesday, all eyes were on Texas as Sen. Wendy Davis and women's health champions in the Texas Senate stood together to stop harmful legislation from passing. Thanks to your voice and the voices of thousands of people from across the state, women in Texas won! But this fight isn't over — not by a long shot.
Once again Gov. Rick Perry and Lt. Governor David Dewhurst are threatening the health and safety of Texas women by limiting access to safe, legal medical care. Governor Perry has forced yet another special session starting on July 1, and we need to be ready to fight back, to stand strong, to speak out, no matter what.
We must stand together and demand that Texas legislators stop playing politics with women's health. Speak up now — tell lawmakers to stop interfering with women's private medical decisions.
Visit http://StandWithTexasWomen.org and send a message to Texas Legislators.
Come participate in the Stand With Texas Women Tour.
Houston Tour Event here.
Fort Worth Tour Event here.
---

LIKE My Facebook Page – Visit My Blog: EgbertoWillies.com
Follow @EgbertoWillies