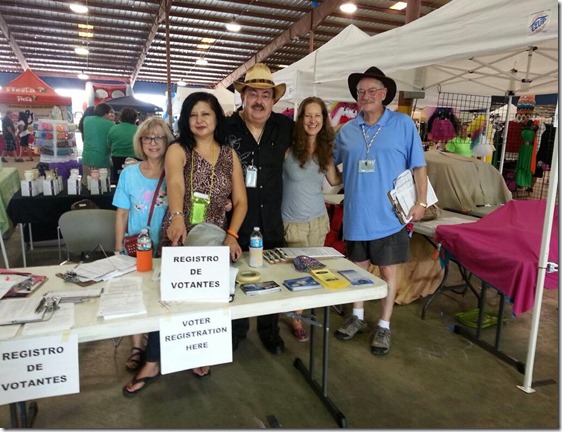 Many members from Kingwood Area Democrats (KAD) participated in a Battleground Texas (BGTX) voter registration drive at the Tejano Music Festival in Humble, Texas. They were accompanied by Nell Coffee, a BGTX leader from Jersey Village and Amy Goodwin, a leader in the making.
Amy Goodwin showed her resolve to ensure Texas will be a Blue state by travelling all the way from Lufkin, Texas to make her statement and to register voters. She understands that it will take activists and just everyday Texans to bring this state back into the column of the rational.
"This was a wonderful experience." said Tony Morales, a KAD member. "We will ensure that all Texans' voices are heard. The Latino community has largely been ignored and overlooked. No more." he said.
"It was hot and humid. The showers cooled things down a bit but we came here to do a job, and the job we did" said Marc Croes, another KAD member. Marc said that as they get more practice they will be even more effective than they were at the festival.
KAD member Dalea Lugo made the long trek to the festival. She provided that necessary assistance all present appreciated.
Tony Morales said they registered over a dozen new voters early on and many more would be forthcoming. "This is an ongoing effort till victory." he said.
This is the attitude that Kingwood Area Democrats, Humble Area Democrats, and Battleground Texas have brought to this area. While this area tends to vote Conservative on many issues, the area is not a Conservative area. It is an area where many voters do not vote.
Those that have gerrymandered this district based on voting patterns will be surprised sooner than later. Texans will begin voting the real values and interests of Texans as opposed to the special interests that have decimated education and the healthcare of middle class and poor citizens.
---

LIKE My Facebook Page – Visit My Blog: EgbertoWillies.com
Follow @EgbertoWillies