.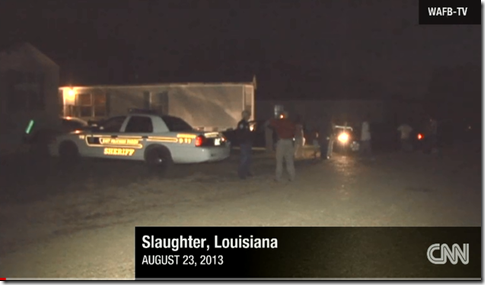 .
How many more accidental shootings because of the presence of a gun, intentional shootings because of the presence of a gun, or convenient shootings because of the presence of gun must America continue to endure. The NRA says guns do not kill. They are absolutely right.Good people and bad people with guns kill.
CNN reports that on Thursday an eight year old kid intentionally killed his elderly caregiver after playing a violent video game. He killed Marie Smothers, his 87 year old grandmother in a Slaughter, Louisiana mobile home park. She was pronounced dead at the scene.
"By accounts of relatives of the victim, as well as friends of the family, the victim and the juvenile had a normal, loving, relationship and even shared the same bedroom," the sheriff's department said.

The gun belonged to Smothers, WBRZ reported. CNN affiliate WAFB reported that a man identifying himself as the boy's father also said the gun belongs to Smothers.

Although the boy initially told investigators that he accidentally shot the woman while playing with a firearm, the probe led authorities to believe he "intentionally shot Mrs. Smothers in the back of the head as she sat in her living room watching television," the sheriff's department statement said.

The boy won't face charges. Under Louisiana law, a child under 10 is exempt from criminal responsibility. [Source]
The sheriff's department press release implies that playing the Play Station III 'Grand Theft Auto' may have influenced the boys actions. No one knows where the grandmother had the guns stored.
It is a known fact that the presence of guns in a home increases the likelihood of someone in that home being injured or killed by a gun either by accident, homicide, or suicide. Moreover, there is absolutely no credible evidence that having a gun in the home reduces ones risk of being a victim of crime.
This fact is so incontrovertible that the American Academy of Pediatrics recommends that pediatricians urge parents to remove ALL guns from their homes. It does not say to store safely or to store guns unloaded. It says they should not be in the home, period.
One must wonder if politicians and citizens will be more proactive given the recent rash of gun incidences. Just last week a fully AK-47 armed gunman with over 500 rounds was subdued by the love and kindness of Antoinette Tuff, a bookkeeper at Ronald E. McNair Discovery Learning Academy in Lithonia, GA.
Next week there will be a test. Two Colorado Democratic state senators are being recalled for supporting a tough new gun law. Both the margin of victory or defeat of the recall effort will tell if the perceived influence of the NRA is valid. They are spending buckets of cash for that recall.
This young boy is now a killer. Who is to be blamed? Blame must be placed on every politician and American citizen who refuses to acknowledge the reality that guns are no different than any other potentially lethal product that must be strictly regulated and in some circumstances outlawed.
---

LIKE My Facebook Page – Visit My Blog: EgbertoWillies.com
Follow @EgbertoWillies