Anthony Weiner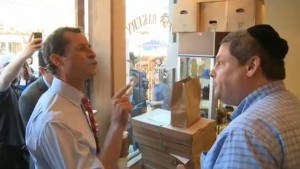 Update:
Below is a different video than the one in the original post. The guy Weiner was arguing with initially sneered at Weiner for marrying an Arab.
---
I may take a lot of flak for this one but in this case I am on Anthony Weiner's side. I am not condoning what Weiner did. I would not do what he did. What I do know is that what he did is none of my business or your business. It is between Weiner, his wife, and his god.
Every American has the right to do as they please as long as it is legal. If as an individual one believes some action someone running for any political office disqualifies them from serving, then I think they have the right to not vote for that person. This is a free country and the electorate has choices.
What upsets me on this issue is that there are politicians in office and running for office that effected policies or will effect policies that will materially harm the working middle class. Many of these guys will get elected. Their moral depravity much exceeds what Weiner has done so far.
Weiner's display of his artifact to several women who willfully engaged in the games with him has done no harm to my family or my financial well-being, your family or your family's well-being. The immorality of the policies of many elected officials throughout the country is doing us much more harm. Letting banks get away with pilfering the middle class is worse than anything Weiner did. Compromising on environmental standards that cause life long illness is worse than anything Weiner did. Supporting tax policies that mortgage the future of every working middle class person is worse than anything Weiner did. Not supporting universal healthcare for every American is the utmost in immorality.
If as a country we would grow up and tackle the real problems, we would not allow the Plutocracy, the puppeteers to keep our eyes off the real enemy by having us concentrate on "personal moral issues" that have no effect on our lives or  financial well-being.
---
Untitled from Anthony Weiner on Vimeo.
---

LIKE My Facebook Page – Visit My Blog: EgbertoWillies.com
Follow @EgbertoWillies