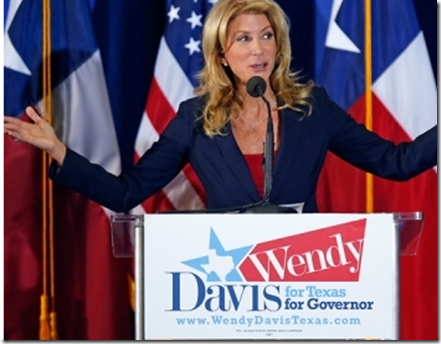 Wendy Davis announced her entry into the Texas Governor's race on October 3rd, 2013. She will turn Texas blue. She did so with scores of grassroots and average Texans watching live via Internet streaming throughout the entire state of Texas. There were house parties and watch parties in real time from Houston to Austin, Brownsville to El Paso, San Antonio to Dallas, Amarillo to Beaumont, Midland to Fort Worth. It was fun.
Now the hard work begins. Senator Wendy Davis has already begun to feel the moneyed interest's power. The attacks have already begun. The misinformation campaign is in full vogue.
Remember that feeling when Wendy Davis stood up to the powerful on thee floor of the Senate with her epic filibuster? Remember how that passion for her standing up for Texans brought out thousands to the State Capitol? Remember when the Republicans forced through their anti-woman bill the anger that was felt by the majority of Texans?
That anger must now be turned into action. It is time to turn Texas blue. It is time to elect a governor that will solve Texas' healthcare, education, and quality of life problems. This action takes three steps.
First, supporters must use all their online and offline networks to introduce Wendy Davis to Texans. This includes Facebook, Twitter, Tumblr, Pinterest, Instagram, Youtube, Vines, and all the others in between.
Secondly, supporters  must help organizations like Battleground Texas, the Texas Democratic Party, and other organizations working with the Wendy Davis campaign.
Lastly, those that are able to contribute must invest in making a Texas that supports all its citizens by making a financial contribution. Wendy Davis opponents have large coffers from select corporate interests. A candidate receiving contribution from her constituents is definitely beholding to the citizens.
Please help turn Texas blue now. Please make that contribution NOW.

---
Wendy Davis Will Turn Texas Blue
---

LIKE My Facebook Page – Visit My Blog: EgbertoWillies.com
Follow @EgbertoWillies