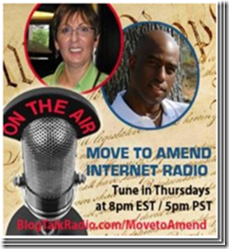 Thursday 7:00 PM Central
Call and listen at 646-652-2345
Listen Live & Podcast Here.
Hosted by National Leadership Team members Laura Bonham and Egberto Willies, will air every Thursday at 8:00 PM ET, 5:00 PM PT.
The show will feature guests who specialize in movement building, amending the Constitution, grassroots organizing, and issues relating to corporate rule and participatory democracy.
Each show provides opportunity for call-in questions and comments from the listening audience by dialing 646-652-2345 (long distance charges may apply).
Today's Guest
---

Adam Lioz is a lawyer and policy advocate who joined the Demos in November 2011. He focuses on litigation to enforce the National Voter Registration Act and end prison-based gerrymandering; and policy advocacy to promote political equality and democratic fairness through safeguarding the right to vote and curbing the influence of big money on the political process.
Prior to joining Demos, Adam worked on environmental issues with PennPIRG/PennEnvironment; promoted campaign finance reform and election administration reform for U.S. PIRG;  and organized to elect progressive candidates in three election cycles with MoveOn PAC and Progressive Future (now Fair Share Alliance).
Adam has lobbied extensively in the Pennsylvania State House and U.S. Congress; written or edited more than a dozen reports on environmental and good government issues; been quoted, published, or featured in leading media outlets such as The New York Times (op-ed Mar. 2002), Washington Post, USA Today, NPR, CNN, CSPAN; and played leadership roles in grassroots electoral campaigns that have made face-to-face contact with hundreds of thousands of voters.
Adam received his J.D. from Yale Law School in 2007 and his B.A. from Duke University in 1998.
---

LIKE My Facebook Page – Visit My Blog:EgbertoWillies.com
Follow @EgbertoWillies