Move To Amend Reports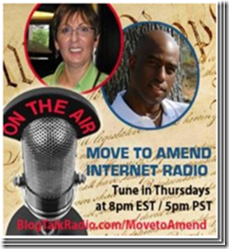 Thursday 7:00 PM Central
Call and listen at 646-652-2345
Listen Live & Podcast Here.
Hosted by National Leadership Team members Laura Bonham and Egberto Willies, will air every Thursday at 8:00 PM ET, 5:00 PM PT.
The show will feature guests who specialize in movement building, amending the Constitution, grassroots organizing, and issues relating to corporate rule and participatory democracy.
Each show provides opportunity for call-in questions and comments from the listening audience by dialing 646-652-2345 (long distance charges may apply).
Today's Guests
---

Ashley Sanders is a member of the Move To Amend Leadership Team and a member of Salt Lake Move to Amend. Miguel Nieto (Media Team) and Verne Cotton (Volunteer Coordinator) will also be on the show.
We will be asking them about the external ins and outs of their work.  They will discuss their internal process and structure, and also how they used Nationbuilder to do outreach and build their support for the ballot initiative in their city.
---

LIKE My Facebook Page – Visit My Blog:EgbertoWillies.com
Follow @EgbertoWillies