Move To Amend Reports
Thursday 7:00 PM Central
Call and listen at 646-652-2345
Listen Live & Podcast Here.
Hosted by National Leadership Team members Laura Bonham and Egberto Willies, will air every Thursday at 8:00 PM ET, 5:00 PM PT.
The show will feature guests who specialize in movement building, amending the Constitution, grassroots organizing, and issues relating to corporate rule and participatory democracy.
Each show provides opportunity for call-in questions and comments from the listening audience by dialing 646-652-2345 (long distance charges may apply).
Today's Guests
---
Dave Murphy
Dave Murphy is a native Iowan from Clear Lake and the Founder and Executive Director of Food Democracy Now!, a grassroots movement of more than 650,000 farmers and citizens dedicated to reforming policies relating to food, agriculture and the environment. Dave served as the co-chair of Prop 37 in California, helped passed GMO labeling bills this year in Connecticut and Maine and videotaped Barack Obama promising to label GMOs in 2007 during the Iowa caucus.
---
Delores Whitman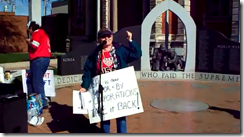 Delores Whitman is a retired children's librarian and organizer for Occupy Defiance since 2011. When Occupy Defiance joined Move To Amend in 2012, her group went door-to-door collecting 866 signatures for a 2013 ballot resolution calling for a constitutional amendment to Citizens United. They were able to go door-to-door, send letters to the editor, host a public forum, speak to the City Council, and went on community TV reminding people to get out and vote for the resolution. Their ballot campaign succeeded in passing the resolution (1807 to 902).
---
Carla Rautenberg
After years of working on issues such as single-payer national healthcare and campaign finance reform, Carla Rautenberg joined many others in realizing that to achieve a true democracy, we must strip corporations of never-intended constitutional rights and overturn the mistaken doctrine of money as speech. She sees the Move to Amend as providing a uniquely non-partisan approach to restoring all of our rights under the constitution to human beings.
---

LIKE My Facebook Page – Visit My Blog:EgbertoWillies.com
Follow @EgbertoWillies