Kingwood Area Democrats Provide Support For Homeless Veterans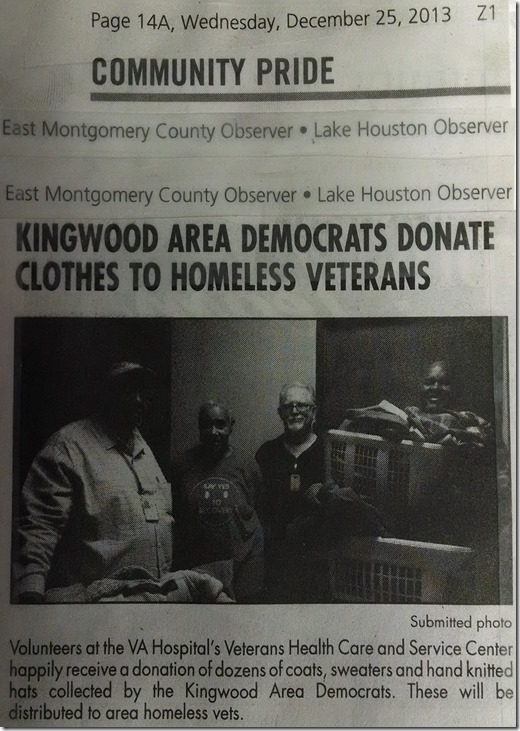 It is the holiday season. Every American should be reflective and thankful for all of those that have stepped up to serve the nation. This is something that should be done continuously. The holidays are a time where gifts and goodwill are exchanged more often.
Unfortunately, with our busy lives and with a new mantra of unnecessary austerity in this rich country, homeless veterans are easily forgotten. It is with that thought that the Kingwood Area Democrats decided to do their little part in a much larger scale.
The Kingwood Area Democrats board of directors sanctioned by the member body decided to collect clothes for the area's homeless veterans. They specifically concentrated on collecting coats for the cold weather. One of the leaders in both the Kingwood Area Democrats and Humble Area Democrats, Tony Morales, took the lead in organizing the events to effect this activity.
Kingwood Area Democrats placed a booth in Town Center at the Christmas In the Park event. They collected quite a few coats for homeless veterans on a very cold day. "Inasmuch as it was freezing and I knew the event would not draw the crowd it normally draws," Kingwood Area Democrat Fundraising Chairman Tony Morales said. "I knew I had to be there for my brother, a veteran, and my country."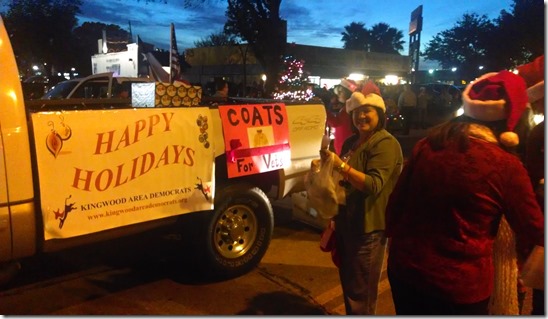 Kingwood Area Democrats also collected coats for homeless veterans at the Humble Christmas Parade of Lights. "This is an event that we participate in every year," said Kingwood Area Democrat Publicity Chairman Deborah Mowrey. "Using this event to assist our soldiers allows us to leverage our membership and our neighbors'  limited time."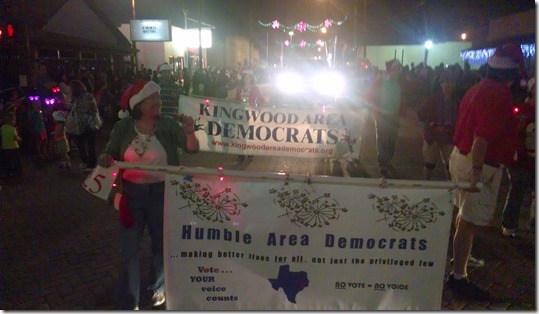 Kingwood Area Democrats used their last scheduled event of 2013, their Christmas party, to collect a few more items for the area's homeless veterans. They were honored to have Texas State Senator John Whitmire and Harris County Democratic Chairman Lane in attendance along with many excellent 2014 candidates that helped promote the cause.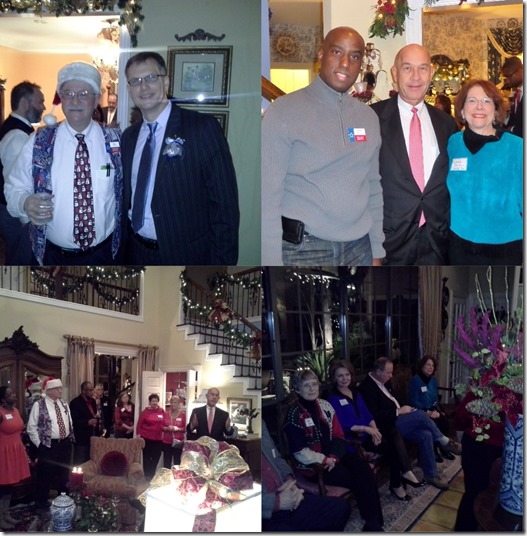 Kingwood Area Democrats (KAD) Linda Abdmoulaie subsequently ensured that the coats and other clothing were delivered to the homeless veterans. KAD initiated this event during the holidays. It is a task that KAD has been doing for many years. The intent is to ensure that more is done to publicize the plight of veterans. Specifically of importance is the plight of homeless veterans in particular. Until they are all assisted into reentering the community, the job is not done.
---

LIKE My Facebook Page – Visit My Blog: EgbertoWillies.com
Follow @EgbertoWillies