Kingwood Area Democrat Marc Croes is happy. He was able to get great affordable healthcare via Obamacare (The Affordable Care Act). He says,
It is January 1, and thanks to Obamacare my family will have our own health insurance policy. It's been a long struggle for us, since my wife and I both have a dreaded "pre-existing condition" which disqualified us from being able to purchase private health insurance in the past. I make a good living. I could afford health insurance, but no insurance company would sell it to me.

I even tried the state's high-risk pool, but was not qualified for that either. The byzantine rules for qualification are the biggest reason only 20,000 of Texas' millions of uninsured are in that pool. I could afford to pay the high rates in that pool but the state wouldn't let me in, despite the cancellation and rejection letters I had received from private insurers.

All the heated rhetoric about the HealthCare.gov website turned out to be much ado about nothing. The site was definitely problematic in November but once the patches were made about December 1, signing up was a breeze. If you make more than $45,000 per year, making you ineligible for a subsidy, you could have signed up at any time by calling the insurers directly on their toll-free phone numbers, and bypassed HealthCare.gov entirely. In addition there were, and still are, numerous volunteer organizations available to help you. Open enrollment remains open until March 31, and the trained volunteers at getcoveredamerica.org will be glad to help you sign up.
---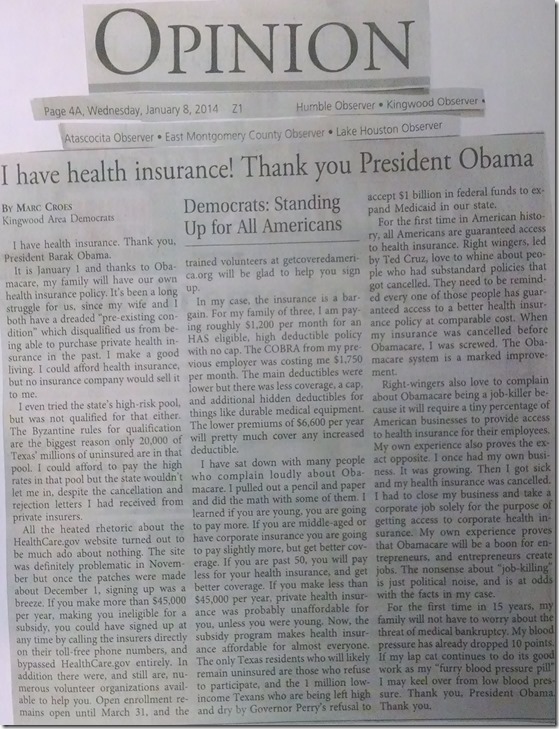 ---

LIKE My Facebook Page – Visit My Blog: EgbertoWillies.com
Follow @EgbertoWillies