Houston Mayor Annise Parker marries long time partner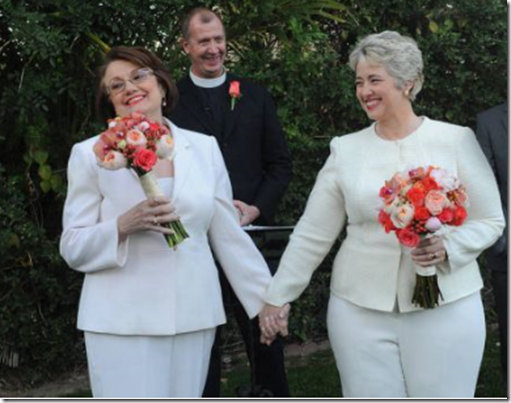 The Houston Chronicle is reporting that Houston Mayor Annise Parker has married her longtime partner.
Houston Mayor Annise Parker and longtime partner Kathy Hubbard are now married – at least in the eyes of 18 states, including California, where the couple formally exchanged vows Thursday in a sunset ceremony in Palm Springs.

"This is a very happy day for us," Parker said in a news release issued from her office. "We have had to wait a very long time to formalize our commitment to each other. Kathy has been by my side for more than two decades, helping to raise a family, nurture my political career and all of the other ups and down and life events that come with a committed relationship. She is the love of my life and I can't wait to spend the rest of my life married to her."

The wedding included family and friends, including the mayor's mother and Hubbard's sister, according the mayor's press office. The Rev. Paul Fromberg, a family friend from San Francisco, presided. Two other close friends from Houston, Judge Steve Kirkland and Mark Parthie, were attendants and formal witnesses. Parker and Hubbard chose Jan. 16 for their wedding because it marks the 23rd anniversary of the start of their lives together, her office said.
Congratulation Mayor Annise Parker. Your work ethic, intellect, and perseverance is an example for all to follow. You were a beacon that helped removed preconceived misconceptions by many with regards to gays, lesbians, and all the other subdivisions many would place on others.
Houston Mayor Annise Parker won her last term as Mayor of Houston in November. She is term limited from running for mayor again.
---

LIKE My Facebook Page – Visit Myall  Blog: EgbertoWillies.com
Follow @EgbertoWillies