Update: The crash site has still not been found.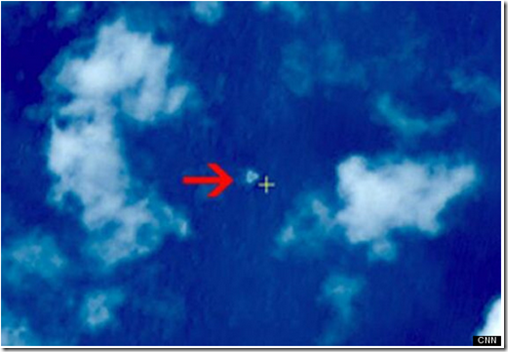 CNN is reporting that a Chinese satellite may have detected the suspected crash site of Malaysia Airlines flight MH370. See the story below.
Satellite looking into missing Malaysia flight detects 'suspected crash area'

By Jethro Mullen and Michael Pearson, CNN updated 5:15 PM EDT, Wed March 12, 2014

(CNN) — A Chinese satellite looking into the mysterious disappearance of Malaysia Airlines Flight 370 "observed a suspected crash area at sea," a Chinese government agency said — a potentially pivotal lead into what has been a frustrating search for the Boeing 777.

China's State Administration for Science, Technology and Industry for National Defense announced the discovery, including images of what it said were "three suspected floating objects and their sizes." The objects aren't small at 13 by 18 meters (43 by 59 feet), 14 by 19 meters and 24 by 22 meters.

The images were captured on March 9 — which was the day after the plane went missing — but weren't released until Wednesday.

The Chinese agency gave coordinates of 105.63 east longitude, 6.7 north latitude, which would put it in waters northeast of where it took off in Kuala Lumpur, Malaysia, and south of Vietnam.

This isn't the first time authorities have announced they were looking at objects or oil slicks that might be tied to aircraft. Still, it is the latest and comes on the same day that officials, rather than narrowing the search area, more than doubled it from the day earlier to nearly 27,000 square nautical miles (35,000 square miles).
---

LIKE My Facebook Page – Visit My Blog: EgbertoWillies.com
Follow @EgbertoWillies