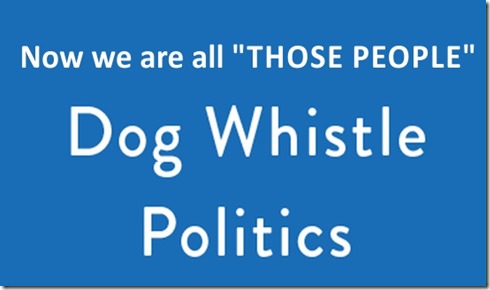 Yesterday I read Paul Krugman's piece titled 'That Old-Time Whistle'. Of course he meant dog whistle. It is a must read. It really caught my eye because my Sunday DailyKOS front page article was on the same subject. It seems like we ultimately came to the same conclusion.
To be able to solve problems one must first acknowledge there is in fact a problem. Further, to deny reality further damages the aggrieved. This is true even if the aggrieved is not aware that they are being harmed.
Paul Ryan said the following.
We have got this tailspin of culture, in our inner cities in particular, of men not working and just generations of men not even thinking about working or learning the value and the culture of work. […] There is a real culture problem here that has to be dealt with.
One does not have to be a political junkie to understand how loud that dog whistle was. Paul Ryan attributed the statement to his inarticulateness. Really? Was he ever sufficiently inarticulate to equate the similarly systemic poverty and dysfunction in Appalachia? Of course not.
Paul Krugman did a great job of expanding the dog whistle. Though the presumed intent of this dog whistle is to limit the size of government, the reality is far from that. Krugman illustrates that it is just an attempt to divide and conquer. 'Those people that don't look like you are trying to take your hard earned cash. We will cut your taxes and force them to work'.
The reality is quite different. Paul Krugman shows that conservatives while preaching small government rarely support small government policies except for those that affect "those people." He qualifies this by noting that while inefficient overpriced Medicare Advantage and support for corporate welfare is supported, mortgage relief for "those people" is not. High bonuses for the titans of finance are supported, yet good wages for the "those people" are not.
In my article I pointed out that there are groups that have always had to pay an opportunity premium to gain access to success. Women, minorities, and the systemic poor have had to work much harder comparatively. The different manifestations of the ability to access success are the opportunity premiums.
As we all become "those people" the dog whistle will be loud & clear.
The problem now is that many who never had to pay that opportunity premium are finding out that as the Plutocracy continues its extraction, they are now in the same boat. As such, that dog whistle will become less and less effective every elections cycle.
---

LIKE My Facebook Page – Visit My Blog: EgbertoWillies.com
Follow @EgbertoWillies