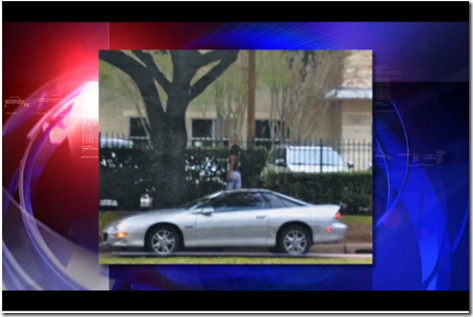 This morning at around 9:00 AM a Houston, TX woman, Michelle Monique Burks fired shots outside the Channel 13 (KTRK) studios. ABC13 reported the event at their own station as follows.
It was right around 9am when police say the woman, identified as Michelle Monique Burks, fired off several shots at the front of our building on Bissonnet at Buffalo Speedway.

At five minutes before 9 this morning,a cell phone picture was taken from across the street of Burks firing at the front of the ABC-13 building. Several shots hit glass on a second-story plate glass window. Several cars in the front parking lot were also struck.
Michelle Monique Burks, the shooter, never made it beyond Channel 13's security fence. Within 20 minutes she was arrested by the Houston police. She was charged with felony deadly conduct.
ABC13 reports that Burk may be connected with Facebook messages the station has received over the last few months. Just before the incident it is believed she posted a message that mentioned something about self-defense.
ABC13 spokesperson official statement follows.
We want to thank Jeff Tobin, the alert eyewitness who heroically took photos while shots were still being fired, which helped police quickly apprehend the suspect. We are grateful to Houston Police Department for their fast response, that no one was injured and the ABC-13 staff is safe and sound.
Luckily, no one was injured in this incident.
Michelle Monique Burks Arrested For Firing Shots Outside Channel 13
---

LIKE My Facebook Page – Visit My Blog: EgbertoWillies.com
Follow @EgbertoWillies