Comedian Tracy Morgan in intensive care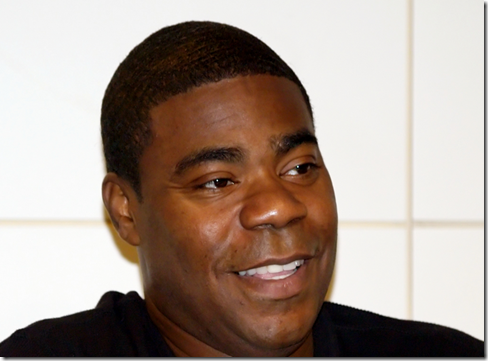 According to the New York Times, Comedian Tracy Morgan was in a severe crash on his tour bus this morning about 1 AM this morning.
The actor and comedian Tracy Morgan was critically injured early on Saturday after the limousine bus in which he was riding was hit by a tractor-trailer in a six-vehicle accident on the New Jersey Turnpike, the State Police said.

At least one person was killed in the crash, which occurred about 1 a.m., the State Police said, on the northbound side of the turnpike in Cranbury Township in Middlesex County, about 45 miles from New York City. The person was not immediately identified.

Sgt. Gregory Williams of the State Police said that Mr. Morgan, 45, a former "œSaturday Night Live" and "œ30 Rock" cast member, had been a passenger in the limousine bus, which overturned after being struck by the tractor-trailer. Mr. Morgan was listed in critical condition in intensive care at the Robert Wood Johnson University Hospital Center in New Brunswick, along with three other passengers, Sergeant Williams said. Two other people in the bus were not injured, he added.
According to USA Today, Tracy Morgan was scheduled to perform at Dover Downs Hotel and Casino. According to gawker,
Comic Ardie Fuqua was reportedly one of the passengers on Morgan's limo bus. He added this picture early Saturday morning, just before the crash.
---

LIKE My Facebook Page – Visit My Blog: EgbertoWillies.com
Follow @EgbertoWillies