Jerry Jones, Dallas Cowboys' owner in compromising pictures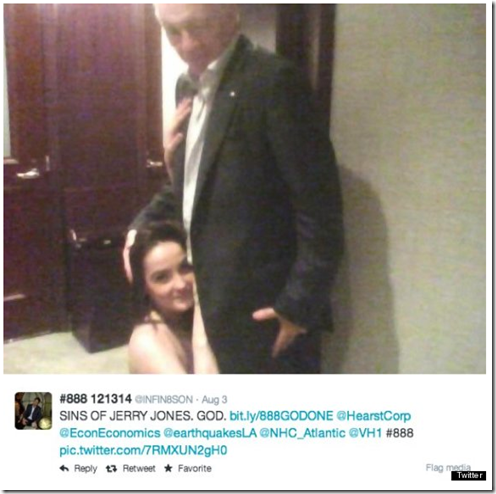 Dallas Cowboys owner Jerry Jones seem to have gotten caught up in a 'racy pictures with two young women' saga. The story seem to have been broken on gossip site TerezOwens.com. This one is good for a good laugh.
According to TMZ Sports,
TMZ Sports spoke to the women — Lindzie (blonde) and Jordan (brunette) — who are strippers in Texas, and they claim to remember very little about the night they partied with Jerry some 5 years ago … because "there was a lot of alcohol involved." …

Lindzie dances in Houston … Jordan in Ft. Worth — and both say they're also concerned Jones might try to take legal action against them.
They've tried to contact the ex-friend who snapped the pics, but say she's gone radio silent.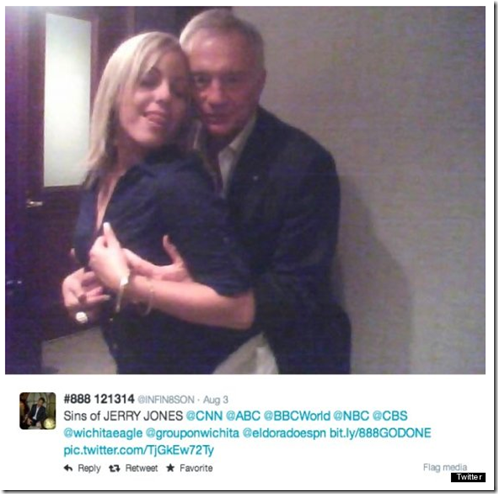 Jerry Jones told SportsDayDFW that the photos are a misrepresentation.
Dallas Cowboys owner Jerry Jones, for the first time Sunday evening, acknowledged the suggestive photos of him and two women that have been circulating on the Internet in recent days.

Jones called the photos a misrepresentation but offered little else. He used the phrases "I don't have any more comment'' and "that's all I'd really like to get into" a total of six times in a span of three minutes.

The photos that appear to show Jones in suggestive poses with two younger women first appeared on the sports gossip site TerezOwens.com and were picked up Tuesday by Deadspin.com.

The low-quality images were released online in a 20-page manifesto by a man named Frank Hoover, who calls himself the "Son of God." Hoover writes in the document that the photos are part of a plan by others to extort Jones, although no such scheme has been confirmed.

Asked if the photos were part of an extortion plot, Jones responded:

"Someone has misrepresented photos taken at a restaurant five years ago for their own purposes. I'm just not going to comment on it.''

Jones confirmed that the photos were taken in a Dallas restaurant. He was then asked what was misrepresented in the photos.

"Again, that's all I'll like to get into," Jones said.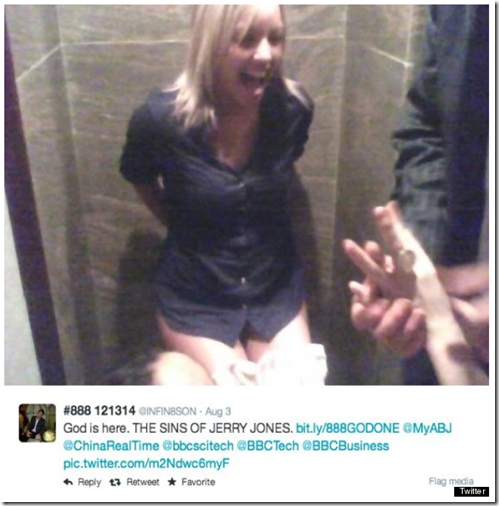 Jerry Jones is a grown man. He can do as he pleases like any grown man or woman. While this is good fodder, as long as Jerry Jones does not attempt to moralize to others no one should to him.