Rick Perry INDICTED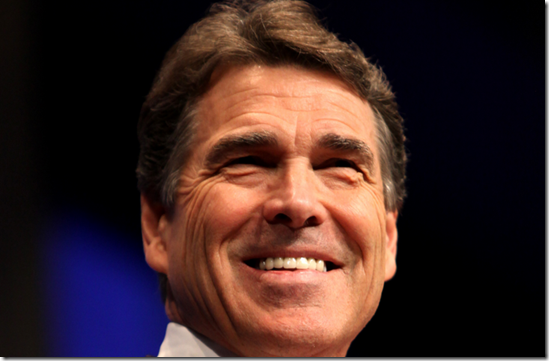 Texas Governor Rick Perry was indicted by a Texas jury. KXAN reports the following.
AUSTIN (KXAN) – A grand jury has handed up an indictment against Gov. Rick Perry in connection with the investigation into an effort to force Travis County District Attorney Rosemary Lehmberg to resign.

At the center of the issue is a complaint about intimidation stemming from Perry's threat to veto of $3.7 million in state funding to the Public Integrity Unit run by Lehmberg's office. The threat came after she pleaded guilty to drunk driving and served a 45-day sentence; Perry called on her to step down but she refused to resign her position. Perry then vetoed the funding for the PIU.

A grand jury was called to determine whether or not Perry broke the law when he threatened to veto the funding. As a result they issued indictments on two felony charges: abuse of official capacity and coercion of public servant. If found guilty on the charges, Perry could be sentenced to a maximum 109 years in prison.
According to the AP this is the first indictment of its kind since Governor James "Pa" Ferguson was indicted for vetoing funds for the University of Texas as an attempt to unseat faculty and staff he objected to.
It has been assumed that Rick Perry was grooming himself for the 2016 Presidential race. It is not known what the implications of this indictment are.