Corrupted Texas Republicans may be unable to steal election in Texas as Voter ID Law ruled unconsititutional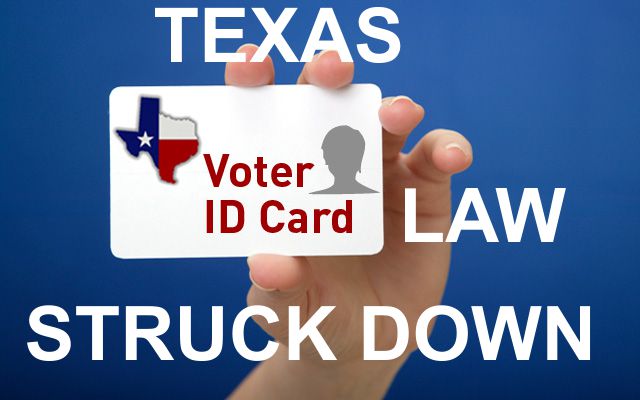 The Texas Voter ID law was struck down by the United States District Court, Southern District Of Texas Corpus Christi Division. The Voter ID law was called a poll tax.
Here is the conclusion of the opinion.
Conclusion

The evidence establishes that discriminatory purpose was at least one of the motivating factors for the passage of SB 14. "Once racial discrimination is  shown to have been a 'substantial' or 'motivating' factor behind enactment of the [challenged] law, the burden shifts to the law's defenders to demonstrate that the law would have been enacted without this factor."547 The record demonstrates that SB 14 was discriminatory, among other reasons, because: (a) its list of acceptable IDs was the most restrictive of any state and more restrictive than necessary to provide reasonable proof of identity; (2) IDs that had expired more than 60 days before an election were still capable of identifying the ID-holder, yet were not permitted; and (3) there is no cost-free way for an indigent to prove up his or her identity in order to vote.

Defendants did not provide evidence that the discriminatory features of SB 14 were necessary to accomplish any fraud-prevention effort. They did not provide evidence that the discriminatory features were necessary to prevent non-citizens from voting. They did not provide any evidence that would link these discriminatory provisions to any increased voter confidence or voter turnout. As the proponents who appeared (only by deposition) testified, they did not know or could not remember why they rejected so many ameliorative amendments, some of which had appeared in prior bills or in the laws of other states. There is an absence of proof that SB 14's  discriminatory features were necessary components to a voter ID law.

Defendants rely on the proposition that SB 14 is a facially-neutral law imposing burdens that do not exceed the normal burdens associated with a normal life, including voting. Given the demographic statistics of the No-Match List, and the Plaintiffs' testimony, it is clear that possessing a photo ID, possessing a birth certificate, having a nearby DPS or other ID-issuing office, having transportation, and having the funds to purchase an ID are all things that are not within normal, tolerable burdens.

This Court concludes that the evidence in the record demonstrates that proponents of SB 14 within the 82nd Texas Legislature were motivated, at the very least in part, because of and not merely in spite of the voter ID law's detrimental effects on the African-American and Hispanic electorate. As such, SB 14 violates the VRA as well as the 14th and 15th Amendments to the Unites States Constitution.

See the full opinion here.