President Obama: 'The US continues to outpace the rest of the world'. Good Job
President Obama has been doing something he seldom did over the years. He is starting to tout his various successes and the success of the fruits of the path he laid out in the first two years of his administration. The chart below tells a story that one seldom hears in the traditional mainstream corporate media. It is important that Americans are given valid information lest they continue to elect those that put our economy in danger. Never in American historical record was there a period of 57 continuous months of private sector job growth. How many know this?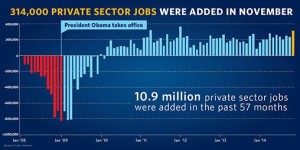 With falling oil prices partially due to the policies of this administration and the catalyst of the stimulus as well as the cost bending effected by the Affordable Care Act, the economy is clicking on most cylinders. This is being accomplished even with headwinds of a Republican Party intent on destroying the Presidency of President Obama. The direction laid out in the first two years was so effective it was able to withstand relentless GOP obstruction, their government shutdown, and the absence of them passing any middle class centric policies.
It is important that as the economy improves that Republicans are not able to coerce Americans into believing they had anything to do with the success. Intransigence and obstruction must not be rewarded from any party. In fact it is imperative that the President holds tough for the next two years and only allow the passage of middle class centric policies like the hike in the minimum wage / living wage, student loan relief, environmental policies, and infrastructure projects. Absent these he must veto everything else.
Following is the analysis of the 2014 November Employment Report and the economy in general based on irrefutable fact  based data.
---
The Employment Situation in November

Job growth in November was strong, and the economy has now already added more jobs in 2014 than in any full calendar year since the late 1990s. To create an environment in which this progress can continue, it is critical that Congress take the basic steps needed to fund the government and avoid creating disruptive and counterproductive fiscal uncertainty. We have an opportunity to work together to support the continued growth of higher-paying jobs by investing in infrastructure, reforming the business tax code, expanding markets for America's goods and services, making common sense reforms to the immigration system, and increasing the minimum wage.

FIVE KEY POINTS IN TODAY'S REPORT FROM THE BUREAU OF LABOR STATISTICS

1. The private sector has added 10.9 million jobs over 57 straight months of job growth, extending the longest streak on record. Today we learned that total nonfarm payroll employment rose by 321,000 in November, mainly reflecting a 314,000 increase in private employment—the third strongest month for private payrolls over the past 57 months. Private-sector job growth was revised up for September and October by a combined 32,000, so that over the past three months, private-sector job growth has averaged 266,000 per month. Private employment has risen by at least 200,000 for ten consecutive months, the first time that has happened since the 1990s. In addition, the average workweek in the private sector rose to 34.6 hours in November, the highest since 2008.

2. Total employment has risen by 2.65 million in the eleven months this year, already totaling more jobs than in any full calendar year since the late 1990s. The pace of job growth has increased, averaging 241,000 per month so far in 2014, up from 194,000 per month last year. On a percentage basis, the economy is adding jobs at a rate of about 2 percent per year, also on pace for the largest percentage increase in any calendar year since the late 1990s. As discussed in greater detail below, this pickup in the average monthly rate of job growth from 2013 to 2014 has been seen in many sectors, including construction, manufacturing, health care and social assistance, and State and local government.

3. The pickup in the pace of job growth in 2014 has been in industries with higher wages. For instance, the pace of manufacturing job growth has more than doubled to 15,000 per month this year, from 7,000 per month last year, and average weekly earnings for manufacturing workers are about $170 higher than for all private-sector workers. Similarly, employment in the construction sector has risen by an average of 21,000 per month so far this year, up from 13,000 last year, and average weekly earnings for construction workers are about $200 higher than for all private-sector workers. In contrast, the industries that have seen slowdowns in job growth this year are lower-paying sectors on average like retail trade, leisure and hospitality, and temporary help services. While this recent improvement is encouraging, it is worth noting that the average wage for a given industry masks a substantial degree of variation in earnings for workers within the industry. Moreover, while average weekly earnings have been growing a bit faster than inflation, there is more work to be done to further boost wage growth and address longer-standing challenges around both the quality of jobs and the growth of wages. For this reason, the President remains focused on doing everything he can to strengthen the labor market and create good-paying jobs.

4. While many retailers add additional workers to accommodate heightened customer traffic during the holiday season, the magnitude of holiday hiring differs substantially across retail subsectors, and seasonally adjusted data give a more accurate picture of the economy's performance. Overall, unadjusted retail employment totaled 15,906,000 in November. Controlling for the additional holiday hiring and other seasonal factors gives a seasonally adjusted estimate of 15,500,000. The difference between the unadjusted and seasonally adjusted numbers show that there is about a 3 percent seasonal bump to retail hiring in November, as shown in the chart below. This bump will likely grow to around 4 percent by December, based on last year's data (with the bump defined as the ratio of the raw jobs number to the seasonally adjusted jobs number). Underlying this average is considerable variation across retail subsectors. The biggest holiday bump is in clothing stores and sporting goods, hobby, book and music stores—both categories see around 7 percent more jobs than on a seasonally adjusted basis. In contrast, building material and garden supply stores see 2 percent fewer jobs than would be expected without seasonal effects. While the unadjusted data can provide interesting insights into the patterns of our economy and society, the seasonally adjusted data are the best benchmark of the economy's progress. And crucially, the seasonally adjusted data show that overall retail trade sector employment has continued to expand in recent months, with employment rising by an average of 41,000 per month over the last three months.

5. Many major sectors saw particularly strong job gains in November. Looking over the 57-month streak of private-sector job growth, November was one of the top ten strongest months for industries such as manufacturing, retail trade, transportation and warehousing, financial activities, and professional and business services. Specifically, manufacturing added 28,000 jobs, and has now added 764,000 jobs over the past 57 months, the strongest job growth in this sector since the 1990s. Across the 17 industries shown below, the correlation between the most recent one-month percent change and the average percent change over the last twelve months fell to 0.60, reflecting the noticeably strong performances in a number of sectors.

As the Administration stresses every month, the monthly employment and unemployment figures can be volatile, and payroll employment estimates can be subject to substantial revision. Therefore, it is important not to read too much into any one monthly report and it is informative to consider each report in the context of other data that are becoming available.