Regulations make this safe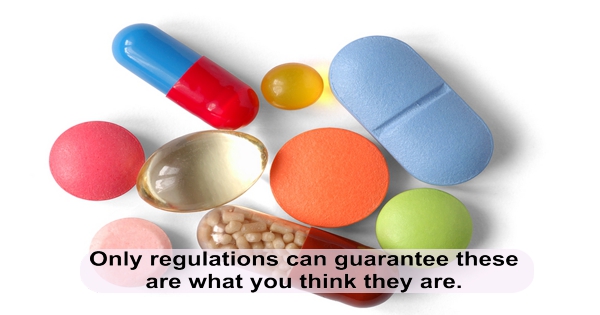 I work out a lot. I lift weights. I spin. When I am out of town I go walking long distances. I take vitamins a lot of vitamins supplements. Recently I have been dieting because I put on a few pounds during the Holidays.
Dieting does not stop the tough regiment. Because less is eaten, vitamin supplements are ever more important to supplement the vitamins and mineral deficiency from the lower caloric intake. It was with great dismay that I read the following.
Bottles of Walmart-brand echinacea, an herb said to ward off colds, were found to contain no echinacea at all. GNC-brand bottles of St. John's wort, touted as a cure for depression, held rice, garlic and a tropical houseplant, but not a trace of the herb.

In fact, DNA testing on hundreds of bottles of store-brand herbal supplements sold as treatments for everything from memory loss to prostate trouble found that four out of five contained none of the herbs on the label. Instead, they were packed with cheap fillers such as wheat, rice, beans or houseplants.

Based on the testing commissioned by his office, New York Attorney General Eric Schneiderman said Tuesday he has sent letters to the four major store chains involved — GNC, Target, Walmart and Walgreens — demanding that they immediately stop selling adulterated or mislabeled dietary supplements.

Schneiderman said the supplements pose serious risks. People who have allergies or are taking certain medications can suffer dangerous reactions from herbal concoctions that contain substances not listed on the label, he said.
It turns out I use some of these same supplements that were found deficient at Walgreen. This is one instance that mirrors thousands in our economy. Businesses will cheat for a profit if a lack of government regulations and enforcement allows it. This time it is vitamins. In the past it has been poultry, beef, and many other consumer items.
Many have allowed the Right Wing to convince them that regulations are bad. Regulations did not come into being because government, we the people, wanted take anyone's freedom away. It came about because businesses that thought they could profit at the expense of safety, businesses that could potentially kill us, infringed on our right for health and life.
Before buying into the Right Wing crap of low regulations, look around your home. Look into your fridge. There are many regulations many have fought for to make you safe. We need many more. Your life depends on it.