Muslims and all Americans should be upset with media silence #MuslimLivesMatter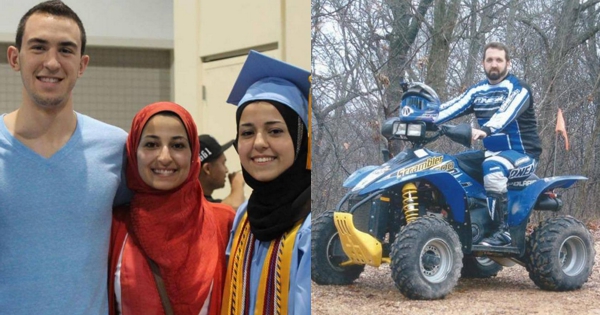 46 year old Craig Stephen Hicks turned himself in and was charged with three counts of first degree murder for killing three Muslim students, Deah Shaddy Barakat, Yusor Abu-Salha, and Razan Abu-Salha. Deah Shaddy Barakat, 23, was a Syrian-American doctoral student at the University of North Carolina Chapel Hill's school of Dentistry. Deah Shaddy Barakat, 21, is his wife. Razan Abu-Salha, 19, is his sister-in-law. According to The Independent, they were killed execution style inside their apartment.
Yesterday it was sadly confirmed that a brave American young lady held captive by ISIS/ISIL Kayla Mueller, was in fact killed. This is a deeply sad, hurtful, and distressing outcome. The coverage of this event was incessant for most of the day. There was no new information to add. It was simply repetitious.
The murder of the three Muslim students by Craig Stephen Hicks occurred at around 5:00 PM EST. It occurred before the evening news. It occurred prior to the nightly cable shows. Yet it was not covered. The suspension of NBC Nightly News anchor and managing editor Brian William for lying was covered extensively. Jon Stewart calling it quits was covered extensively.
It is reported that Craig Stephen Hicks is a militant atheist. He seemed to have much hate for Christians and Muslims alike. One of his posts stated "Radical Christians vs Radical Muslims, do you see any difference in both sides? (Dustin)"
What would have been the headline and coverage if a UNC Muslim family killed  the religion hating Craig Stephen Hicks? Is there any doubt?
The Right Wing excoriated the President last week for doing the right thing. The President became Preacher in Chief as he urged Americans to get off their high horse in believing that acts of violence can be relegated to just those others. He preached about the need for a sense of humility by us all.
The murder of these three innocent Muslim students by a gun touting American atheist should give many pause. All told one of the murdered was a community serving man who took care of the indigent. The killer seemed to be a hate filled monster that had no problem snuffing out three lives.