Texas Republican Politicians are committing a moral crime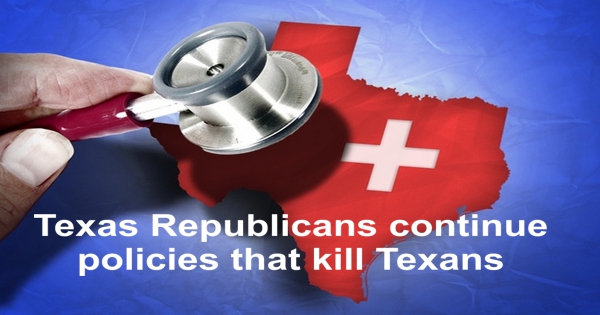 Texas Republican politicians continue with their policies that are killing Texans. Uninsured Texans will continue to get sicker and sicker as they find healthcare unaffordable. Over one million Texans are uninsured. Texas has the highest uninsured population rate in the country.
It isn't hyperbole to say that Texans are dying because of these policies. There are studies that have been done that quantifies the number of deaths caused by these policies.
The Texas Tribune reported reported the following.
Leading Texas Republicans on Monday asked the Obama administration for greater flexibility to administer Medicaid — a move that has gotten little traction in the past — while reiterating that they would not participate in an expansion of the program under the Affordable Care Act.

"Any expansion of Medicaid in Texas is simply not worth discussing," state Sen.Charles Schwertner, R-Georgetown, chairman of the Senate Committee on Health and Human Services, said at a press conference. …

State Rep. Garnet Coleman, D-Houston, said Monday that the proposals were "a non-starter and everyone knows it."

"We should be following the example of other Republican states who are finding fiscally responsible solutions to closing the coverage gap rather than increasing it," Coleman said in a statement.

Twenty-eight states and the District of Columbia have expanded Medicaid under the federal law.
The Texas Hospital Association released a press release that said the following.
Texas hospitals are asking state lawmakers to develop solutions that can address the state's current and pressing needs, including:

A growing population and a growing number of residents without health insurance;
Increasing financial pressure on local counties and local property taxpayers;
Increasing uncompensated care that shifts costs to employers and those with private health insurance; and
Uncertainty around renewal of the 1115 Medicaid Transformation Waiver that has so effectively contained costs and spurred innovative care delivery.

Texas hospitals need two solutions to address these immediate challenges.
A plan to make private health insurance affordable and accessible for the more than 1 million uninsured low-wage working Texans who currently have no access to private or public health insurance.

Continued state funding of Medicaid disproportionate share hospital payments to provide fiscal relief to over-burdened local taxing jurisdictions.
The interview a while back from Republican Texas Representative Michael Burgess shows how entrenched the ideology over humanity modal is by those representing Texas both nationally and statewide.

Will Texas State Republicans get a heart? Texans, you put them there because you stayed home. It is your job to force them to do what is best for Texas and for the United States. Many of the over one million Texans that cannot get insurance are your friends and families.
Call your state congressperson and state senator and tell them you want them to expand the Medicaid Expansion to the Affordable Care Act. You can find out who are your state congresspersons and state senator here.
Politics Done Right on KPFT discussed this with some insightful call-ins.