Debbie Riddle justifiably ridiculed

Jon Stewart had fun with our Texas Right Wing Republican politicians. "When it comes to erecting road blocks between citizens and their federally guaranteed rights," Jon Stewart said. "Nobody, nobody is at it longer than Texas."
Stewart then broke off to a clip with Republican lawmakers celebrating the 10 year anniversary of taking away the rights of gays, the ban of same sex marriage. Who celebrates the banning of ones civil rights?
Stewart illustrated exactly why Texas eats the cake in the buffoonery arena in their anti gay marriage crusade. After a judge married a same sex couple, a state representative called foul. He filed a complaint with a Texas district judge for that moral infraction. State Representative Tony Tinderholt, a four time divorced, five time married man thought it was in his purview to determine what is right or wrong.
Debbie Riddle likely had the most ridiculous story of them all. It shows the rather less than serious form of thinking that folks of her ilk engage in. Grits for Breakfast reported it as follows.
From the "You Can't Make This Stuff Up" Department, I think this may be my favorite* new crime proposed yet in 2015: Texas state Rep. Debbie Riddle has filed legislation making it a Class A misdemeanor for a transgendered person to use the restroom of their adopted gender, even after reassignment surgery, and a state jail felony for a building manager to allow them to do so.Indeed, the bill goes beyond transgendered people to criminalize anyone entering the restroom of the opposite gender with three exceptions: if they enter for custodial purposes, to give medical attention, or accompanying a minor under eight years old. I can think of more than one instance in my life where I would have committed a Class A misdemeanor under this provision, how about you?

My wife suggested that many women may have violated this proposed law at nightclubs or public events because the lines to women's restrooms are always quite long and the stalls in the men's room are frequently empty.

Criminalizing that demographic may be an unintended consequence. But to me, what makes it look like the bill targets transgendered folk are the particular gender definitions imposed in the bill:

For the purpose of this section, the gender of an individual is the gender established at the individual's birth or the gender established by the individual's chromosomes.  A male is an individual with at least one X chromosome and at least one Y chromosome, and a female is an individual with at least one X chromosome and no Y chromosomes.  If an individual's gender established at the individual's birth is not the same as the individual's gender established by the individual's chromosomes, the individual's gender established by the individual's chromosomes controls under this section.
Jon Stewart got a twofer out of this one. "Texas lawmaker Debbie Riddle, riddle me this," Jon Stewart said. "You want people educated with Texas biology text books to correctly identify their chromosome match?" He then displayed her since taken down Facebook post.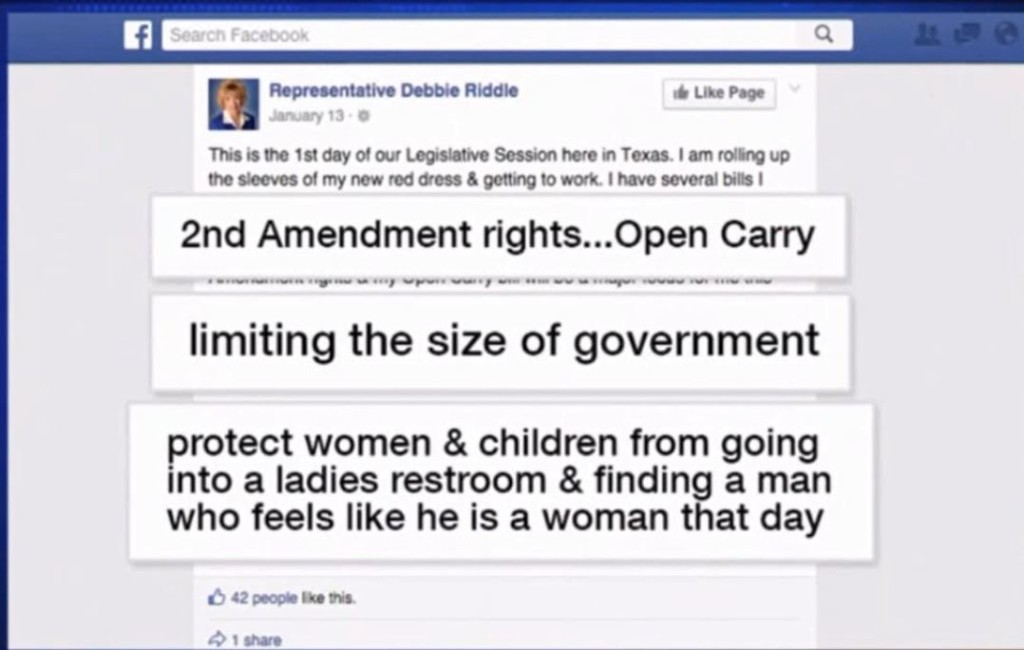 Yes, our Texas Right Wing Republican politicians give us a lot to laugh at. Unfortunately it is no laughing matter as they continue to pass laws that materially hurt Texans or leave Texans without.