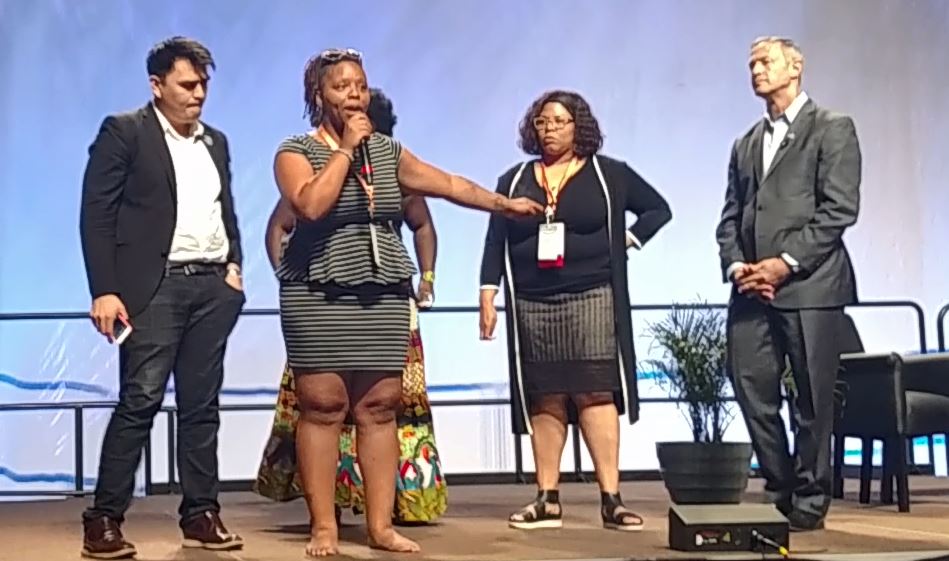 The Netroots Nation conference is a yearly gathering of Liberal bloggers, writers, organizations, and politicians. It is a place for learning, sharing failures and successes, networking and much much more. Most importantly it is the place where the enlightened congregate in a country led astray by a plutocracy intent on maintaining its power by creating false divisions. This is has been ingrained in the DNA of this country. It is for this reason that at first I was extremely disappointed by the response of many of my fellow Liberals to the Black Lives Matter protest –  but more about that later. Let me digress.
I enjoyed Netroots Nation 2015. I visited with folks that I see once a year. I met new people and established new relationships. Altogether the conference met most of my expectations. As long as I am able to I will be returning.
Every year some form of protest occurs at Netroots Nation. It is an activist group. After-all, its genesis lies with activist bloggers. Politicians seek us out because it is at the center of the energy of the Democratic Party. While some may not have heard of the DailyKOS, the most traffic Liberal site, or Netroots Nation, much of the Liberal narrative is driven by those that write or are somehow affiliated with them.
Over the last 12 months or so America was privy to what most people of color have known for decades. There are two justice systems in this country. Who can forget the young South Carolina driver gunned down by a cop as he followed the cop's instructions to get his license. The just released dash cam shows a Texas cop assaulting an innocent woman, Sandra Bland for no cause. She is now dead. I could enumerate scores of these incidences captured on camera. Worse, many could speak of thousands of these types of incidences undocumented, unrecorded, but effected on innocent human beings.
In the facade of our daily lives we smile, we talk, we interact. Many of us however, behind that facade, live a very different reality with regards to our fears of the police, with regards to the American justice system.  To many it is an existential fear. It is a fear of knowing that to many in law enforcement and to our justice system our lives are less than and do not matter. Many choose not to look behind the facade. Many choose not to empathize.
The disappointment with some of my Netroots Nation brothers and sisters was their willful inability to empathize. Activist liberals that have stood for civil rights, that have marched for civil rights, that have had their skulls cracked for civil rights were now either dismissive or critical of a group whose mission is noble.
But just as I was settling on the feeling that the vast majority of our white liberals and the black intelligentsia at the conference were in an empathetic-less wasteland, I was approached by a white labor activist. She works mostly with minorities. She said she believed most people she spoke to were with the protesters until the protesters seemed to suggest violence. She also went to a session that discussed the Black Lives Matter protest where she felt oppressed because she felt she was not left the space to express her true thoughts of both agreement and disagreement.
Everything this labor activist felt was real. Everything the protesters are feeling is real. So what then? Her space, her dignity was violated at those specific times. The protesters are reacting to a continuum of violations on their dignity and space.
I had frank discussions with many of my white Netroots friends throughout the event and even as I got home. Many wanted me to know that they are on board with the issue but were really concerned and uncomfortable with the Black Lives Matter tactics.
The Black Lives Matter protest was decidedly raucous. So was the Occupy Movement. So is the immigration movement. The vitriol that I heard from some was concerning. Were the Black Lives Matter protesters angry? Yes. Were they justified? Yes. An existential issue that should have been discussed in more depth in a gathering of this type was evidently lost or denied. They felt this was their option to be impactful. Bernie Sanders has since added a social justice component to his narrative. In that regards, the protest was successful.
When I asked my friends to project the pain and perceived loss of control to a permanent state of being, most got it. A protest action may not be what one wants. A protest action may not be done in an ideal manner. A protest action may even fail. What is important is the attempt by all who share a common interest, a common humanity to give the benefit of the doubt, the support, and the knowledge that we have each other's back.
Following is an interview I did with Black Lives Matter founder Patrisse Cullors.