Could Bernie Sanders really be president?
Will 2016 be a status quo presidential election year? Will the plutocracy get its two preferred candidates, Hillary Clinton vs Jeb Bush or Scott Walker? There are signs that the American population may be fed up. It is being manifested in different forms. Donald Trump continues to defy odds as he leads the Republican dysfunctional pack. The punditry is certain that ultimately Trump cannot win the Republican nomination. Of course he has the money to raise havoc as a third party or independent candidate.
On the Democratic side, while the polls continue to show Hillary Clinton with a commanding lead, her favorability ratings are continuously under water. More importantly, Bernie Sanders is progressively narrowing her once insurmountable lead. Bernie Sanders' message is connecting with people because it is a message he has been preaching for decades and as such is an authentic message. Moreover the American poor and middle-class have been in a state that makes his message real and desirable.
The problem for many is that the punditry would have everyone believing that Bernie Sanders  must not win the Democratic nomination because ultimately electing a Democratic Socialist is anathema to being an American. Of course that is because Americans do not yet understand that all democracies are in fact some gradation of democratic socialism including ours. Ours is just poorly designed sans Social Security and Medicare.
Additionally many are fearful that Bernie Sanders simply cannot perform against rank and file Republican candidates. Well, a July CNN/ORC poll shows Bernie Sanders beating every leading Republican candidate. Think about what would happen if Americans decided to go with their values and not their fears. The same switch that occurred when people finally believed that President Obama could win just may occur with Bernie Sanders.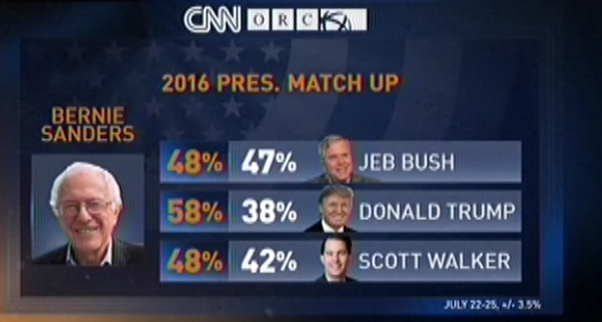 Jonathan Alter provides a possible pathway for a Bernie Sanders victory. He thinks a win in Iowa and New Hampshire could make winning the Democratic Primary plausible. He thinks Donald Trump entering the national presidential race as an independent would make a Bernie Sanders presidency a distinct possibility.
I do not think an independent Trump run is necessary. I think if Bernie Sanders wins the Democratic primary it would be because he has convinced Democratic voters that there is a better way and that his better way can win over a vast majority of the American voter. If he accomplishes that, his message will cross pollinate and would create a transformational election dominated by winning politicians preaching the populist message.
Is this a dream? At this point in time it is. But is it not true that all progress begins with a plausible dream?