Dick Cheney speech interrupted
Dick Cheney was speaking a few minutes ago at the American Enterprise Institute (AEL). He was doing what he does best, criticizing the President ad nauseam. Specifically, he claimed that the Iran Nuclear deal was a bad deal for America and Israel.
Fifteen minutes into the speech, the former vice president's was interrupted by a very loud protester. Code Pink made their presence felt.
"Dick Cheney is a war criminal," the Code Pink representative shouted. "No more war mongering. We want peace. We want peace."
Many people in the room booed.
The protester unfurled a flag.
Dick Cheney was always wrong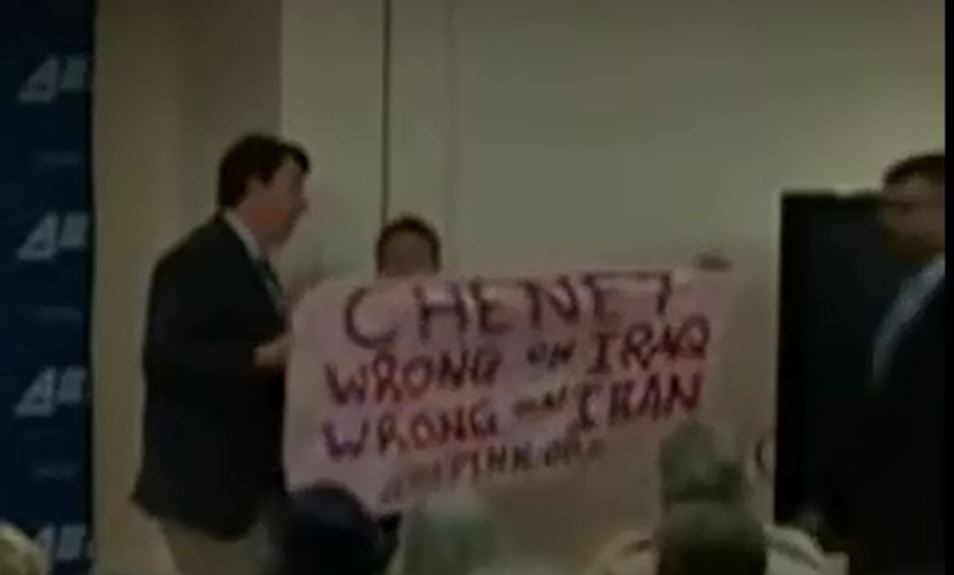 Cheney – Wrong on Iraq – Wrong on Iran.
The Hill reports
The protester appeared to be aligned with the activist group Code Pink, which was protesting Cheney outside of AEI earlier on Tuesday morning.

Cheney's remarks at the conservative think tank came ahead of the congressional vote on the multinational nuclear accord. Cheney warned that the agreement was a historical folly and would only put the U.S. and its international allies at greater risk of danger.
It should be noted that General Colin Powell supports the Iran Deal. Watch the full interview with full transcript here.
Even Ron Paul has come out in support of the Iran Nuclear agreement.