President Obama was really laid back for this interview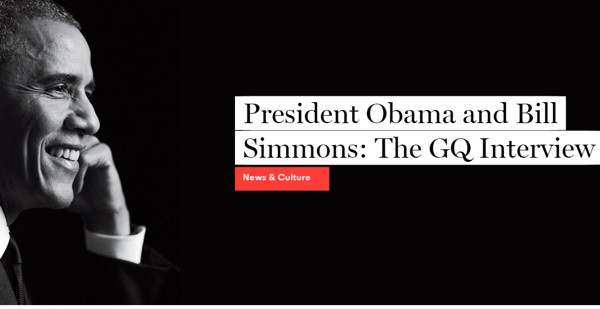 I really enjoyed reading this pretty long Bill Simmons interview of the President. It was evident that President Obama was very laid back as he gave the interview. What is most amazing is the lack of acrimony he refused to expound even though there were many openings. There were a few answers that I found important and interesting.
I was always disappointed that a campaign that was so numerical and pitch perfect on message was so poor in doing that when the Obama campaign became the Obama administration. President Obama acknowledged that failure.
When we came into office, instead of taking some of those lessons, we suddenly adapted ourselves to the White House press room and structures that had been built back in the 1940s and '50s. As a consequence of those missteps early, we got the policies right, and that's why the economy now has grown for five and a half straight years, six years, and why unemployment rates have gone from 10 percent to 5.1 percent. But there was a lot of political pain along the way that might not have been necessary.

One thing I learned through some tough election cycles: You can't separate good policy from the need to bring the American people along and make sure that they know why you're doing what you're doing. And that's particularly true now in this new communications era. I think that we were ahead of the curve in 2008 in social media and the Internet and digital communications.
When defending President Obama with my Liberal brethren who claim Obama is not as liberal as we thought, I always explained that there is a big difference between the President and the Presidency. The Presidency has its own gravity in which the President must nudge and navigate. Big changes are only possible during crisis and with support from the masses and the other branches of government. I love the way he explained this.
But what I didn't fully appreciate, and nobody can appreciate until they're in the position, is how decentralized power is in this system. When you're in the seat and you're seeing the housing market collapse and you are seeing unemployment skyrocketing and you have a sense of what the right thing to do is, then you realize, "Okay, not only do I have to persuade my own party, not only do I have to prevent the other party from blocking what the right thing to do is, but now I can anticipate this lawsuit, this lobbying taking place, and this federal agency that technically is independent, so I can't tell them what to do. I've got the Federal Reserve, and I'm hoping that they do the right thing—and by the way, since the economy now is global, I've got to make sure that the Europeans, the Asians, the Chinese, everybody is on board." A lot of the work is not just identifying the right policy but now constantly building these ever shifting coalitions to be able to actually implement and execute and get it done.
BTW, I never thought President Obama was as liberal as either me or my lefty brethren. The country was not yet ready to elect a real liberal then inasmuch as liberal policies are more in line with the wants of most.
The President apparently was informed on some of the craziest Right Wing conspiracy theories. The one he found most amusing was the Jade Helm 15 military exercise.
That military exercises we were doing in Texas were designed to begin martial law so that I could usurp the Constitution and stay in power longer. Anybody who thinks I could get away with telling Michelle I'm going to be president any longer than eight years does not know my wife.
As the dad of a daughter I am very close to, I understand fully what he is going through and what he will go through in the next few years with Sasha and Malia.
My daughters are amazing girls. They're smart, they're funny. They take after their mom, and Michelle's done a great job with them. You get these teenage moments—they love you, but what I think really affects you most is they just don't have time for you. It's not an active disdain for you. It's just their calendars start filling up and they've got all these friends who are much more interesting. …

And you just have to let go, you have to acknowledge that if you say to them, "Hey, you want to go watch this movie?" or "Hey, you want to go take a swim at the pool?" "No, sorry, Daddy. I love you, though. See you tomorrow, 'cause I'm spending the night at somebody's house." The golden age is between, say, 6, 7, and 12, and they're your buddies and they just want to hang out. And after that, they will love you, but they don't have that much time for you. And my understanding is, based on friends of mine who have older kids, is that with a little bit of luck, as long as you're not so completely annoying during these teenage years, they'll come back to you around 23, 24, and actually want to hang out with you. But that stretch is painful. The compensation you get for the fact that they don't have time for you is: Nothing beats watching your children become smarter and cooler than you are. And you suddenly will hear them say something or make a joke or have an insight and you go, "Wow. I didn't think of that."
If you have the time, get a cup of coffee and read the entire GQ article. It is the side of the commander in chief one hopes those on the Right would have given themselves a chance to know.