Come visit with activist on the ground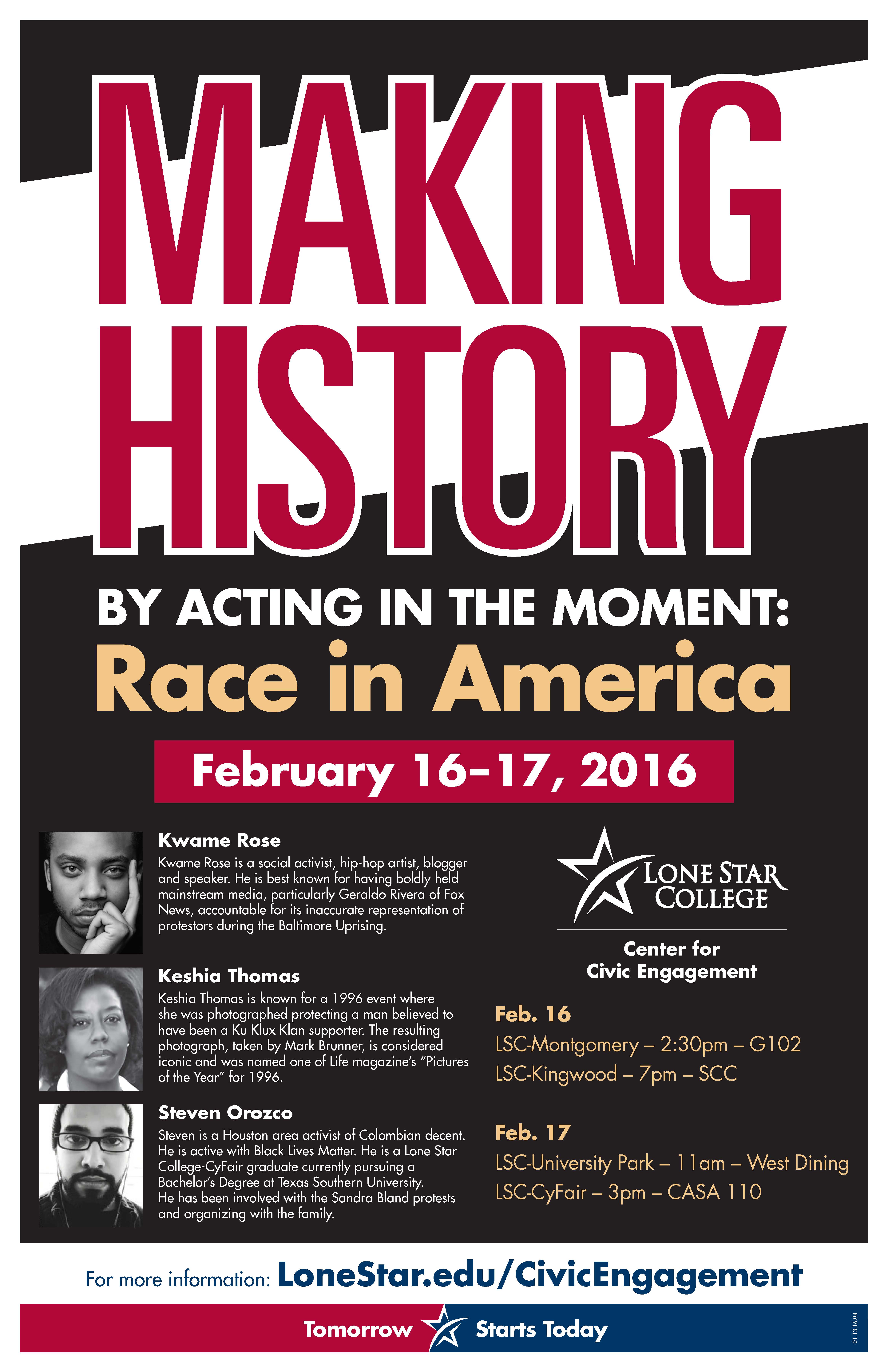 Click here to see all the event's archives.
Where and when?
LoneStar Colege Montgomery
2:30 PM – G102
LoneStar College Kingwood
7PM at the SCC
LoneStar College University Park
11:00 AM West Dining
LoneStar CyFair
3:00 PM CASA 110
Kwame Rose is a social activist, hip-hop artist, blogger and speaker. He is best known for having boldly held mainstream media, particularly Geraldo Rivera of Fox News, accountable for its inaccurate representation of protesters during the Baltimore Uprising. Kwame's passion for public speaking once earned him a full scholarship to the University of Texas San Antonio as a member of the debate team. While there, he advocated for hip-hop infused education. After the completion of his freshman year, Kwame returned to his hometown of Baltimore to serve his community. He continues to fight for social justice through his music, as well as through a recent partnership with international artist Zakee Kuduro. After having served on the executive board of Brothers In Action, Inc., a mentoring group for young Black males in Baltimore City, for several years, Kwame is currently developing his own youth based advocacy group called V.O.I.C.E.S. (Vocalizing Our Intelligence Creating Effective Solutions).
Keshia Thomas is known for a 1996 event where she was photographed protecting a man believed to have been a Ku Klux Klan supporter. The resulting photograph, which was taken by Mark Brunner, has been considered iconic in nature and was named one of Life magazine's "Pictures of the Year" for 1996 Born in Detroit, Michigan but raised in Ann Arbor, Keshia currently resides in Houston, Texas. She is making plans to move back to Detroit later this year. With renewed excitement, Keshia plans on moving back to Detroit in order to be a part of another great renaissance for the City. "Detroit is getting a lot of negative attention with the bankruptcy and everything that's going on, but I'm really proud of what people are doing there… we have to continue to go forward. "With regard to all that happened that day at the Klan rally in 1996, Keshia has been quoted as stating: "Personally, the one thing I take away from it is that you never know what change can happen in just a moment."
Steven Orozco
Steven is a Houston area activist from Colombian decent. He is active with Black Lives Matter. He is a Lone Star College-CyFair graduate and is currently pursuing his Bachelor's Degree at Texas Southern University.