Keshia Thomas, the pragmatic activist, expounds wisdom over brawn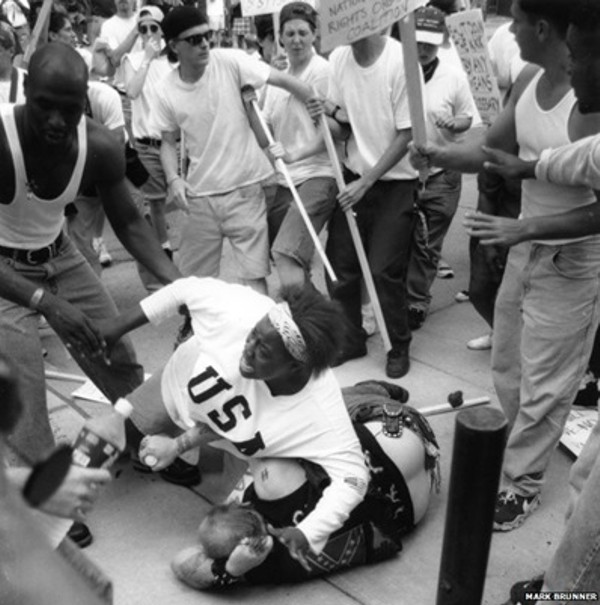 Keshia Thomas participated on a panel held by the Lone Star College Center for Civic Engagement. The title of the panel was "Making History by Acting in the Moment: Race in America." She gave an engaging introduction that displayed the wisdom she has garnered over her many years as a human rights activist.
Keshia Thomas is known for a 1996 event where she was photographed protecting a white man believed to have been a Ku Klux Klan (KKK) supporter. The resulting photograph above taken by Mark Brunner is considered iconic. It was named one of Life magazine's "Pictures of the Year" for 1996.
Keshia recounted the story of saving the life of a KKK demonstrator. Inasmuch as she understood that the KKK demonstrator was not a nice person, she acknowledged his humanity and saved him from the 'mob' that would have killed him.
She said at a later time during the same protest, she saw a cop beating up another protester. She said she pushed on the cop without thinking. She realized that that was a felony. Lucky for her, she was not charged. It was that instant that woke her up on being a more responsible protester. It is that experience that directs the advice she gives to young protestors today.
Keshia reminds protesters that when the cameras are gone it is the individual protester that is left with a criminal record. It is the individual protester that will pay the price for the rest of their lives. It is that protester that will be stopped every time those license plates are run. It is that protester who would never be given the benefit of the doubt.
Keshia Thomas at Lone Star College Center for Civic Engagement
Keshia said her activism began when she led a walkout in junior high after the Rodney King beating by several police officers. She points out that every generation has its own Rodney King. She said at a young age it was evident that the justice system failed us twice. Rodney King was abused and those who did it got off.
During the question and answer segment, there was a major difference in opinion between Thomas and Kwame Rose, another panelist. Rose is the activist that confronted Geraldo Rivera during the Baltimore riots last spring.
Keshia believes in the concept of using honey to attract. She believes voting and dialogue is imperative. She believes that in general, while there are bad cops, they are not all bad. Keshia Thomas is the embodiment of techniques and methods promoted by organizations like Coffee Party USA to encourage change through identifying intersectionalities and agreeing to not allow differences to end all cooperation.
Kwame who has a different personal experience with the police in general comes to a different conclusion. He believes all cops are bad. He said he has never felt that they treated him like a human being. He gave gut wrenching examples that framed his own reality. To him, the thin blue line makes even the presumably good cops effectively bad cops.
Steven Orozco, a local ally of Black Lives Matter in Houston pointed out that he understood where Kwame was coming from but realizes the wisdom of Keshia's words. His skills are well apt for conquering that interactivist divide that usually emerges with generational differences in the activist realm. He brought up the reaction of Netroots Nation Liberals in Arizona after Black Lives Matter confronted Martin O'Malley and Bernie Sanders last summer.
What really upset Keshia and many in the room was that Kwame seemed to imply that young people should not vote. I later spoke to Kwame who stated that while he has not had the urge to vote, he does not encourage others not to. I explained to him that many young people look up to him, his activism, and his intellect. Whether he realizes it or not he is mimicked. I told him as such he has a responsibility to be cognizant of what he says in public.
Keshia Thomas at NAACP America's Journey for Justice
Keshia Thomas has continued her life of activism subsequently. In fact I interviewed her in Washington DC during the NAACP Journey for Justice back in September of 2015. She was one of the activist leaders marching from Selma to Washington. Her passion is unparalleled to none. She showed it then and showed it during her visit to Lone Star College throughout the Houston Metropolitan Area.
Dr. John Theis is to be commended for bringing this type of challenging discourse to the Lone Star College System and the community at large. The Lone Star Center for Civic Engagement is a model that should be replicated throughout the country. Educating students and the community at large using grassroots activists and politicians is essential if meaningful change in perceptions and attitudes are to occur.