HISD parents launch large protest against selection of Dr. Elizabeth Fagen as superintendent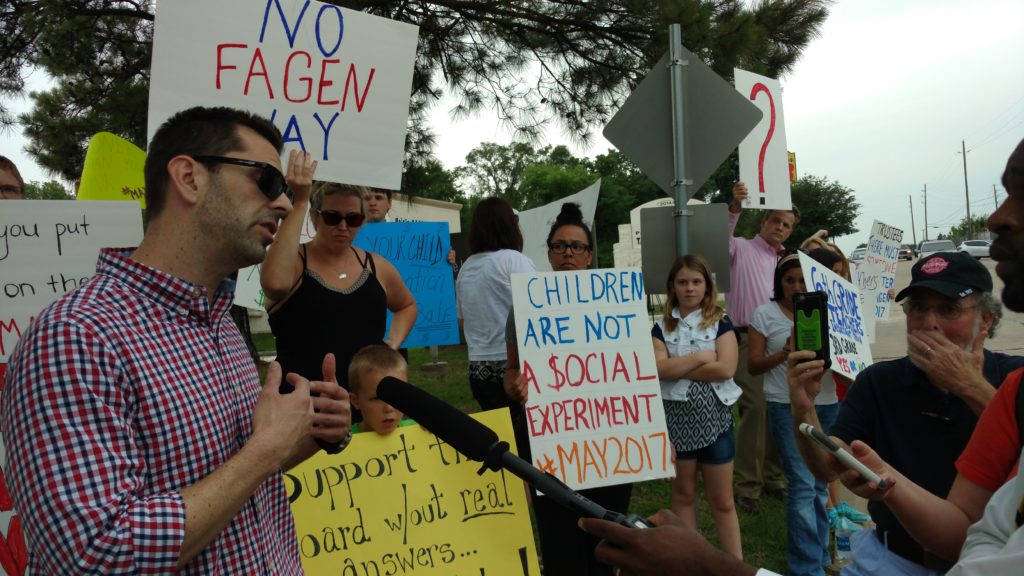 For a long time, the Humble Independent School Board (HISD) was completely unrepresentative of the district it serves. It neither looks like its community ideologically nor in any other form. An apathetic non-voting citizenry allowed the district to slide more and more towards policies detrimental to our children.
Sometimes it takes a shock. There is always a tipping point. HISD's unanimous vote to make Dr. Elizabeth Fagen, their sole finalist for superintendent, to replace Guy Sconzo, seems to be that tipping point.
One of the organizers, Tammy Thomas did not mince words as she explained why Dr. Fagen is not the superintendent HISD parents want. One of her friends who currently lives in Fagen's school district warned her.
Concerned parent turned community activist Tammy Thomas
Parents who never attended a protest or voted before in a school board election came out to protest. One saw the determination in their eyes. In a very short amount of time, their Facebook group has grown to near 3000 members. Their protest came together in less than 48 hours.
Concerned parent Mia Hoyt leads portions of the protest along with spokesperson John Gillispie
Dr. Fagen recently resigned from her superintendent job with the Douglas County School District (DCSD) in Colorado. Why are HISD parents objecting to Dr. Elizabeth Fagen? She supports ALEC-inspired policies to privatize our children's education through vouchers. She had a draconian disrespect for the worth of the teaching profession. She fomented dissension.
It is clear that the DCSD was ready to be rid of her. A Facebook message details the complete reversal that will take effect immediately after her tenure.
It is important that one notes that private schools are not inherently better than public schools. Public schools are generally allowed to be mismanaged to create a rationale for privatization through some voucher mechanism. Migrating from a public education system to a private system is tantamount to a transfer of tax dollars to those who own private schools. They profit from the tax dollars of all of us. It is yet another wealth transfer mechanism from the masses to the few under the pretext of providing better education. Citizens must demand better public education by investing in our teachers, students, and educational infrastructure (schools, equipment, etc.). In education, profit is an expense, an inefficiency (e.g., what would be profit could actually pay higher teacher salaries, more equipment, etc.). Math is absolute.
Mia Hoyt assured the crowd that this was not a one-time event. HISD parents will remain mobilized for the next Humble Independent School District election. There are planned events to educate parents throughout the district about Dr. Fagen as well as the school board process. The mobilization has begun to vote in board members who reflect the will of the community instead of the rigid ideological whims of a few.