Yes, it is a weekly event on video but a constant fear of every black man.
Another black man doing as police tell him to do and is shot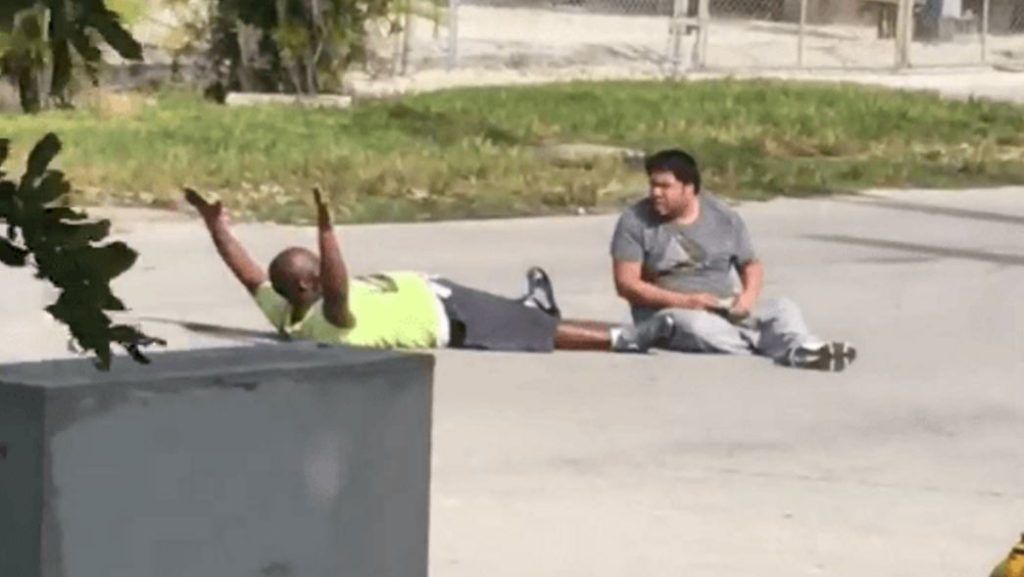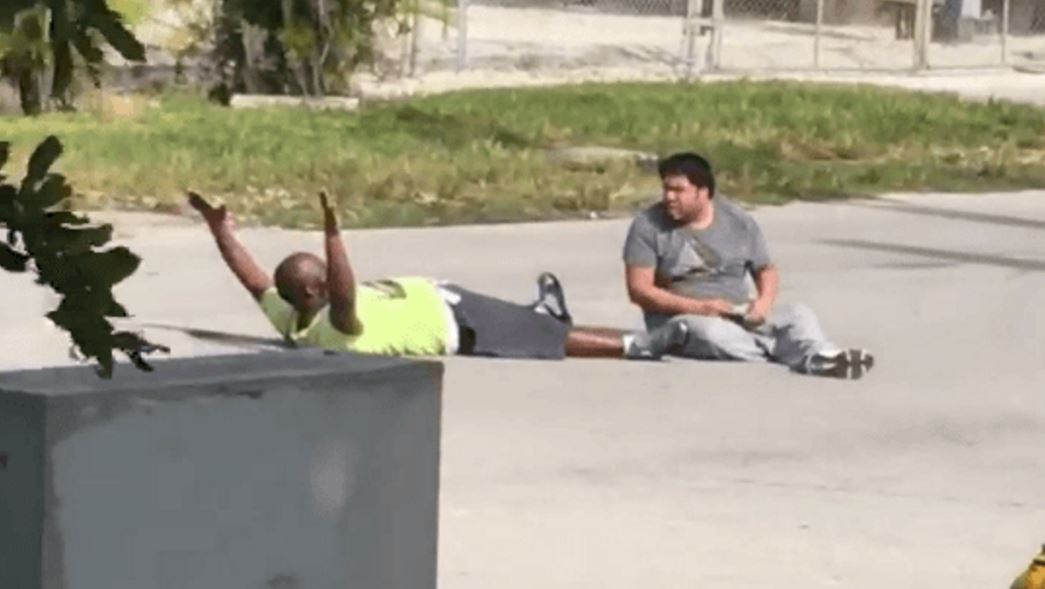 I wonder when all Americans will start seeing the light. I wonder when all Americans will stop putting up smoke screens about black on black crime (a real problem but white on white crime by percentage is equivalent) and start speaking about the implied state-sanctioned brutality against people of color. How much more must you see?
DailyKos.com  reported the event exasperatedly as follows.
Once again.

In Florida, a police officer shot an unarmed black man on Wednesday.

Charles Kinsey was lying on the ground with his hands above his head when a North Miami police officer shot him in the leg. Kinsey, a behavioral therapist, was attempting to calm his autistic patient, who was clearly upset but not posing as a threat. The patient was blocking traffic after he managed to walk away from his assisted living facility. From the Washington Post:

"All he has is a toy truck in his hand," Kinsey can be heard saying in the video as police officers with assault rifles hide behind telephone poles approximately 30 feet away.

"That's all it is," the caretaker says. "There is no need for guns."

Seconds later, off camera, one of the officers fired his weapon three times.

A bullet tore through Kinsey's right leg.

Police apparently mistook the toy truck for a gun.

The video is yet another exhibit of racist and reactionary policing, and demonstrates yet again that law enforcement is poorly equipped to handle situations involving people with atypical mental conditions.

Inexplicably, after he was shot Kinsey was then handcuffed despite the fact that he was absolutely no threat, and says he was left "bleeding on the pavement for about 20 minutes." From the Washington Post:

"I was thinking as long as I have my hands up … they're not going to shoot me," he told local television station WSVN from his hospital bed.

"Wow, was I wrong."

The shooting was taped by a bystander with a cell phone. The officer has not been named, but has apparently been put on administrative leave, "as is standard policy in police-involved shootings."
It gets old. It gets stressful. For many, they just resign themselves to this reality. If any wants to understand the need for a more in your face movement like Black Lives Matter. This is it. Americans only see a partial view of what many endure.
The following video is making the rounds on Facebook.
This man is dangerous because as a black man he gives the perpetrators of brutality and racism an out. I responded as follows.
1) The fact that this man quotes Malcome X and the Democratic Party shows his ignorance. The Republican Party is the party made up and controlled by the 60s Dixiecrats, the Democrats Malcolm X was talking about. The parties have morphed. And that is fact and is easily corroborated.

2) The man in the video is correct about the disintegration of a large portion of the Black family.Unfortunately, he does not understand the genesis of said disintegration. He should consider the parallels between Appalachia and the 'urban' areas. Note the national news do not cover Appalachia as the do urban America. As such, Americans cannot draw appropriate similarities. These similarities prove the socio-economic component of the degeneration of families. And of course historically aggrieved people bare the brunt. Believe it or not, he is partially right that welfare is part of the problem. But it is the punitive implementation that is causal. I don't have the time to go into that right now.

3) The man is correct that everyone must be respectful to police even if they are being wronged because the cops have guns. The problem is all humans react the same. For black and brown folks reaction to police can be a death sentence more so than for whites. This is a statistical fact.

The problem that I have with this man is that he is a tool. He is a tool for those who are intent on maintaining America's unspoken tenet of white supremacy which ultimately creates gradations of worth and value to one's humanity. The problems in black and brown community are not cultural. They are the result of policies that are necessary to maintain our power structure. Many are unable to see through several levels of indirections and this is why the ..1% who are our masters, have the ability to control us all by giving melanin its undeserved worth above humanity at large. Videos like this are shared to allow those a bit higher in the pecking order to feel comfortable when they watch others brutalized physically, economically, and socially. But I guess morality is fungible.

---

PS: Black Lives Matter is an important movement. Martin Luther King was hated in his time and was called a terrorist as well. Many keep their heads in the sand and attempt to justify every incident against people of color. Morality dictates that one is objective. The history of this country demands it. I covered a Black Lives Action in St. Louis and spoke about it here (https://www.facebook.com/ewillies/videos/10209912932359994/).

---

PS #2: When those in the know see misleading videos like this, please speak up. The reason misinformation has taken over reality in this country is because of the silence of those who know better. SPEAK UP!

---

PS #3: I am still upset about this video because it is the kind of video that gives cover to evil. If anyone reading this has a kid of color in the state of our current society, the tool in the video is putting your kids in danger.

The tool in the video above blamed black and brown people for getting shot or killed by cops on their behavior. These recent shootings and killings by cop prove otherwise. It is neither proportional to population nor justified by behavior. Levar Jones (http://bit.ly/1vgANQU), John Crawford III (http://bit.ly/1vglkQV), Philando Castile (http://bit.ly/29mVjJE), Charles Kinsey (http://bit.ly/29N0KGn), and too many others to report on here were rewarded with bullets when following orders or behaving appropriately.
When does it end? — when we do something about it.